I like apple cakes!

Strangely, I have baked only TWO decent apple cakes for my entire four years of blogging at here and here. Seriously! I need to bake more apple cakes!
From the recent Cook like a Star, Paula Deen and Deen brother's event, I have discovered this wonderful apple cake recipe and it is always famously known as Uncle Bob's fresh apple cake.

Uncle Bob? I'm sorry that I really don't know any uncle named Bob. I assume that he is Paula Deen's relative as this recipe originates from here at Paula Deen.com or Food Network. In fact, this popular recipe has been highly reviewed with mostly 5 stars recommendations. With no hesitation, I know that this is the apple cake that I need to bake and eat.

This recipe reminds me of the Belinda Jeffery's quick and easy pear cake that I have baked. Just mix everything and bake... How easy? Unlike Belinda Jeffery's pear cake, this cake recipe contains more oil, flour, less fruit and no water added which makes the batter more viscous batter. In return, this recipe yields a lightly crusted cake with moist, dense and flavoursome cake texture. The reviews are really true. This is truly highly recommended. It is a delicious apple cake with a nice hint of sweetness and saltiness... What more can I ask for? Uncle Bob or Paula Deen to bake for me? Not necessary! *wink*

With no hesitation again, I like to rate this recipe 5 stars too but only if only my apple cake is drizzled with just honey, not the icing sugar loaded glaze recommended in Paula's recipe. All because I like to keep my apple cake as real as it is. I reckon that the extra sugary glaze will ruin the cake, masking its real apple and honey taste which is essentially all that I'm after.
Uncle Bob's Fresh Apple Cake, baked by me, Zoe, NOT Bob!
This is an apple cake made with real apples!
To bake this cake, all you need is to whisk...
... mix in these, vanilla and walnuts...
... and bake!
This is me enjoying this cake with honey... honey only because I don't like extra sugar in the glaze!
Here's the recipe from Food Network or here at Paula Deen.com
(with my notes and modification in blue)
For the cake:
3 cups diced Granny Smith apples, about 2

small

apples
1 cup lightly toasted chopped walnuts
(I used only 50g)
2 tsp vanilla extract
2 tsp ground cinnamon
3 cups

(450g)

all-purpose flour
1 tsp baking soda
(replaced with 1 1/2 tsp baking powder)
1 tsp salt

- yes, must add this amount!
2 cups sugar
(reduced to 200g and the sweetness is just right for me)
1 1/4 cups vegetable oil
(I used rice bran oil)
3 eggs
Instead of making honey glaze with honey, icing sugar and milk. I use just honey to glaze. If you prefer to use the honey glaze to drizzle your cake, please refer to the original recipe at Food Network.
Preheat the oven to 325°F

(or 150°C fan forced)

. Lightly grease a Bundt pan

or tube pan

and I'm using a 20cm tube pan

.
In a bowl, mix together the apples, walnuts, vanilla, and cinnamon. In a separate bowl, sift together the flour, baking soda

/ powder

, and salt.
Using an electric mixer

or a hand whisk

, beat the sugar, oil, and eggs in a large bowl. Add in the dry ingredients and beat until completely combined. Fold in the apple mixture.
Scrape the batter into the prepared pan and bake for 1 hr and 30 mins or until a tester inserted into the middle of the cake comes out clean.

I have baked mine for 1 hr 15 mins.
Allow the cake to fully cool in the pan, about 1 hr, and then turn it out onto a plate.
Drizzle the apple cake honey glaze or

just honey

to serve and enjoy!
The cake can be wrapped tightly and stored in the refrigerator for 3 to 5 days.
Happy Baking
This post is also linked to the event, Little Thumbs up organised by Doreen from my little favourite DIY and me, Bake for Happy Kids, hosted by Kit from I-Lost in Austen at this post* *Please note that Kit's link hasn't kick start yet... We will resolve this as soon as we can.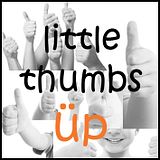 Our Little Thumbs Up event starts on the first Tuesday until the last day of the month. Please join us! To join, simply cook or bake any recipe with the theme of the month which is
APPLE
for September 2014 and link with us
at
this post
*
anytime until 30th September 2014.
Don't forget your thumbs up or display this badge! And make sure that: (1) Your post must be a current post preferably within this month. (2) Please mention Little Thumbs Up in your post and link back to Bake for Happy Kids, my little favourite DIY or/and
Kit from
I-Lost in Austen
.
For more details, please see this.
What after September 2014? Eileen from Eileen's Diary will be the next hostess of October 2014 and her theme is PUMPKIN! Instead of starting on the first Tuesday of the month, her Little Thumbs Up event starts on 1st Oct 2014 and so please take note.