After cooking these traditional curry puffs, I feel like I have conquered a victory...
Traditional Curry Puffs with Melt-in-the Mouth Pastry
... but feeling "defeated" while enjoying these curry puffs with flaky layers of melt-in-the mouth pastry. Geez! My boy and I were enjoying every single bit of these flaky folded edges of these puff.
Flaky? This is what I mean... This is one of the non-curry puffs that I made for my boy.
Feeling winning and defeated? Why? After enjoying all of our spiral chicken curry puffs, my boy has been constantly reminding me that I have to make more curry puffs with no curry for him and his school lunch. With no hesitation, I will. Although I really like the spiral kind of curry puffs that I have made, I like to re-create curry puffs with the most traditional kind of all margarine kind pastry that I used to love. Most traditional kind of curry puff? Yeah... Sort of like the Old Chang Kee kind with melt-in-the-mouth and rich-tasting kind of pastry. Being a health freak, I know that I sounded ironic too, trying to make curry puffs that is healthy...
Healthy curry puff ??? I bet anyone who know and eats curry puff often enough will say..."huh!" Ok ok... I must agree that the obvious answer is... Never!

I always remember those good old days when I was a little fatty helper shaping curry puffs with my grandmother, mum and auntie Lita. I remember that we made our curry puff pastry based on my grandmother's agak agak (meaning estimation in Malay) instructions. And, the pastry was mainly made with Planta margarine and its final texture was fine-tuned with the addition of water and also depending on the humidity and amount and type of flour that we have on the day.
Do we add eggs or egg yolks in our pastry?
What is the ratio of flour and margarine that we used?
What is the best texture of pastry that we are after?
Seriously, I don't have firm answers to these questions?
All that I know now is the negative effects of trans fats in the margarine that we used to eat and should avoid using this ingredient.
With all I can recall, I have tried to make curry puff pastry using following methods...
1) all butter pastry made with chilled butter with no egg in sort of this proportion (as mentioned in Poh's Kitchen) but it was flaky and hard to shape
2) all butter pastry with no egg and higher butter content but pastry disintegrated into the frying oil during frying - Oh! NO!!!
3) butter pastry with egg and water to bind but pastry was too tough and rubbery to shape - resulting broken curry puffs!
Fail! Fail! Fail!
Obviously
, butter is not the right fat to use to make the best traditional curry puff pastry. As I'm trying to say NO to margarine, my next best option is to use shortening and this is why I was feeling a little defeated. For a healthier option, I'm using Crisco shortening which contains 25% saturated fat and 0% trans fat and at least I know that I am not feeding my family with excessive trans fat with all these curry puff pastry.
This curry puff pastry recipe that used is mostly adapted from Rasa Malaysia. What I like this recipe is... It doesn't contain a ridiculous high amount of shortening as it uses a good amount of water to bind the dough and yet the pastry is still so tasty.
Is this pastry as good as Old Change Kee? Not exactly but kind of... It is flakier and more melty. Old Change Kee curry puffs are slightly firmer with smoother outer texture. and I reckon the different brand and types of margarine or shortening used will create all these difference...
I'm not advertising for Crisco here but this is better option that I have chose to use.
Pastry before resting... This recipe requires kneading and resting to get a smoother texture.
For my curry-sensitive boy, I cooked two types of filling to make these puffs.
Shaping the puffs
... and frying them.
Phew! Glad to see that these pastry stay in shapes and doesn't disintegrated into hot frying oil... Clearly, being stable enough in room temperature, margarine and shortening are the most appropriate fat to use to make the traditional kind of pastry for curry puffs.
For a different texture, I like to try another recipe that I have seen at Joceline's post (Butter, Flour and Me) in the future. It uses a lighter combination of all-purpose flour, glutinous rice flour, tapioca flour, butter, oil and water. With the use of oil instead of all shortening or all butter in the pastry, I reckon Joceline's curry puffs should be the more healthful kind rather than these melt-in-the-mouth ones that I have made.
Here are the recipes that I used to make these traditional melt-in-the-mouth curry puffs.
Chicken curry (or non curry) filling recipes are found here.
Please note that I didn't make these puffs with any hard boiled eggs as I was going to freeze them.
Shortening pastry that is mostly adapted from Rasa Malaysia
Makes about 20 small curry puffs or 10-15 medium ones
450g all purpose flour
150g shortening, preferably Crisco
3/4 cup water
1/2 tsp salt
To make pastry:
In a mixing bow, combine flour with shortening, water and salt to form a dough. Place dough on a clean surface and knead it for at least 20 mins or until it become pliable with a rather smooth surface. Divide dough into two equal portions and roll each into cylinder shape. Let it rest in room temperature for at least 30 mins.
Using a knife, divide or slice each portion of dough into 10 or 5 equal segments (depending on the size of puffs that you want to make). Using a rolling pin, roll each sliced dough into flat and round disc. Place enough filling (about 1 1/2 tbsp for small or 2 tbsp for medium curry puffs) in the middle and fold pastry to enclose.
To crimp the pastry manually like the traditional way, pinch the edges flat and fold in at 45° angle to form a plait.

Heat sufficient frying oil (preferably canola oil) in a deep saucepan over medium-high heat. Deep fry the puffs, tossing continuously until golden brown. With reference to my previous curry puff post, please note the addition of shortening in this frying oil is not required as this pastry itself contains shortening.

Remove with a pair of wooden chopsticks or a slotted spoon, shake off excess oil and drain on kitchen towels before serving.
Happy Cooking
This post is linked to the event,
Little Thumbs up
organised by Doreen from
my little favourite DIY
and me,
Bake for Happy Kids
, hosted by
Jasline from
Foodie Baker
at
this post
.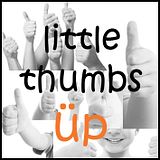 Our Little Thumbs Up event starts on the first Tuesday until the last day of the month. Please join us! To join, simply cook or bake any recipe with the theme of the month which is POTATO for July 2014 and link with us at
this post
anytime until 31st July 2014.
Don't forget your thumbs up or display this badge! And make sure that: (1) Your post must be a current post preferably within this month. (2) Please mention Little Thumbs Up in your post and link back to Bake for Happy Kids, my little favourite DIY or/and
Jasline from
Foodie Baker
.
For more details, please see this.
What after July 2014? Diana from Domestic Goddess Wannabe will be the next hostess of August 2014 and her theme is FLOUR! Her Little Thumbs Up event starts on the first Tuesday of August 2014 (5th Aug) until the last day of the month. If you are wondering what kind of flour you can use to participate this event, please check out this message from Diana...
"Flour is an essential ingredient in my (and I am sure, many of your) kitchen. It is the base of pastas and noodles, cakes and biscuits, or even as thickening agents in the making of a roux. The list of food items made using flour is endless.
As such, we will be limiting the theme to mainly Wheat Flour, namely:
All-Purpose (also known as Plain) Flour

Bread Flour

Cake Flour

Self-raising Flour

Pastry Flour

Wholemeal Flour

Hong Kong (also known as Waterlily) Flour

Superlite Flour

Top Flour
You must use one of these flours in its raw form in your recipe and you must use at least 1 tablespoon or 10g of these flours in your cooking /baking.
----
Sorry for being a nag but I like to mention this again...
Yen from Eat your heart out and Mich from Piece of Cake and I (Zoe) from Bake for Happy Kids will be cooking and baking lots of Gordon Ramsay's recipes for the whole month of August 2014.
Sadly,
this will be our second last Cook like a Star event. Whether you love Gordon Ramsay or not, I hope that you won't miss this event and enjoy cooking with us.
Join us!!!