Once again, another month has passed... and today is the last day of July 2014!!! My son said that today marks the 100th school day since he and his foundation schoolmates had started school. Isn't it amazing to see how time really files?
Once again, the Little Thumbs Up event (July 2014 with potato theme) has been a delicious event for all. We have a total of 135* entries linking with us. Everyone is using the potato ingredients to cook savoury rather than sweets and all are wholesome food with high satisfying index! ... like potato cakes, pancakes, creamy salad, curry puff, curry, breads and pies.... All are so yummy! Thanks, Jasline for being the queen of potato! Now, whenever I think of potato, I will think of you! You have been a great host for this event. High-five!!!
*will update the final number at the end of the event.
Can't have enough potato? Sadly, we have to move on... I reckon next month will be equally exciting with two cooking events! We have (1) Little Thumbs Up (August 2014 with Flour theme) with Diana from Domestic Goddess Wannabe and (2) Cook like a Star (Gordon Ramsay) with Yen from Eat your heart out and Mich from Piece of Cake and myself. Diana's LTU starts on 5th August 2014 and Gordon Ramsay event starts on tomorrow. Please join us!

Can't have enough potato? Yup... so this is my last potato food for July 2014.
When I first saw this potato focaccia recipe at Epicurious, I know that my family and I will love to eat this. The combination of its toppings sounds very delicious to me. True enough, it is!

We really enjoy every aspect of baking and eating this bread... It is very moist, spongy (QQ) and delicious!
A fabulous combination - potato + Parmesan + anchovy on a Focaccia
My son's squash-and-squeeze technique of mashing potatoes - LOL!
Mixing and proving the wet and sticky bread dough
Love everything in this oil mixture - Yum!
The other two main ingredients that I used
Assemble and bake!
Ready to feast on this bread?
Moist, spongy and tasty!
Here's the recipe from Epicurious
(With my notes and modification in blue)

2 1/2 tsp active dry yeast
1/2 tsp sugar
1 cup lukewarm water
4 to 4 1/2 cups all-purpose flour
(for half amount of recipe, I used 50g Italian "OO" flour + 250g bread flour)


2 cups mashed cooked peeled russet (baking) potatoes (about 1 1/4 pounds)
(for half amount of recipe, I used 3 medium golden delight potatoes)


2 tsp table salt
6 tbsp olive oil
2 garlic cloves, sliced thin
(I preferred finely minced garlic)


1 tbsp fresh rosemary leaves, chopped fine, or 1 tsp crumbled dried
(I used the fresh one)


1/4 tsp anchovy paste, or more to taste
(I used all from a 45g can, drained)


1 1/2 pounds small red potatoes, scrubbed
(for half amount of recipe, I used about 4 small sized Desiree potatoes)


1/4 cup freshly grated Parmesan
1 tbsp coarse salt, or to taste

In the bowl of an electric mixer fitted with the paddle attachment proof the yeast with the sugar in the water for 5 mins, or until the mixture is foamy. In a large bowl combine 4 cups of the flour, the mashed potatoes, and salt until the mixture resembles coarse meal, add it with 2 tbsp of the oil to the yeast mixture, and combine the dough well. With the dough hook knead the dough, scraping down the dough hook occasionally and incorporating as much of the remaining 1/2 cup flour as necessary to prevent it from sticking, for 2 mins, or until it is smooth and elastic. Form the dough into a ball, transfer it to an oiled bowl, and turn it to coat it with the oil. Let the dough rise, covered with plastic wrap, in a warm place for 1 1/2 hours, or until it is double in bulk.

(I mixed, kneaded and proved my dough for 1 hr using a bread-maker with dough setting)
The dough may be made up to this point, punched down, and kept, covered and chilled, overnight. Let the dough return to room temperature before proceeding with the recipe (I didn't chill the dough overnight)

.



In a small bowl stir together the garlic, the rosemary, the anchovy paste, and the remaining 4 tbsp oil and let the mixture stand, covered. Press the dough evenly into an oiled jelly-roll pan, 15 1/2 by 10 1/2 by 1 inches, and let it rise, covered loosely, in a warm place for 1 hr, or until it is almost double in bulk.
Cut the red potatoes into paper-thin slices with a mandoline or handheld slicer, arrange the slices on the dough, overlapping them, and brush them with the oil mixture, discarding the garlic. Sprinkle the focaccia with the Parmesan, the coarse salt, and pepper to taste. Bake the focaccia in the bottom third of a preheated 400°F. oven for 40 to 50 mins, or until it is golden brown, let it cool in the pan on a rack, and serve it warm or at room temperature.
Note: Using half of the recipe, I have baked this bread at
180°C fan forced for 30 mins

using 20 cm x 20 cm square pan.
Happy Baking
This post is linked to the event,
Little Thumbs up
organised by Doreen from
my little favourite DIY
and me,
Bake for Happy Kids
, hosted by
Jasline from
Foodie Baker
at
this post
.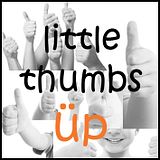 Our Little Thumbs Up event starts on the first Tuesday until the last day of the month. Please join us! To join, simply cook or bake any recipe with the theme of the month which is POTATO for July 2014 and link with us at
this post
anytime until 31st July 2014.
Don't forget your thumbs up or display this badge! And make sure that: (1) Your post must be a current post preferably within this month. (2) Please mention Little Thumbs Up in your post and link back to Bake for Happy Kids, my little favourite DIY or/and
Jasline from
Foodie Baker
.
For more details, please see this.
What after July 2014? Diana from Domestic Goddess Wannabe will be the next hostess of August 2014 and her theme is FLOUR! Her Little Thumbs Up event starts on the first Tuesday of August 2014 (5th Aug) until the last day of the month. If you are wondering what kind of flour you can use to participate this event, please check out this message from Diana...
"Flour is an essential ingredient in my (and I am sure, many of your) kitchen. It is the base of pastas and noodles, cakes and biscuits, or even as thickening agents in the making of a roux. The list of food items made using flour is endless.
As such, we will be limiting the theme to mainly Wheat Flour, namely:
All-Purpose (also known as Plain) Flour

Bread Flour

Cake Flour

Self-raising Flour

Pastry Flour

Wholemeal Flour

Hong Kong (also known as Waterlily) Flour

Superlite Flour

Top Flour
You must use one of these flours in its raw form in your recipe and you must use at least 1 tablespoon or 10g of these flours in your cooking /baking.
----
Sorry for being a nag but I like to mention this again...
Yen from Eat your heart out and Mich from Piece of Cake and I (Zoe) from Bake for Happy Kids will be cooking and baking lots of Gordon Ramsay's recipes for the whole month of August 2014.
Sadly,
this will be our second last Cook like a Star event. Whether you love Gordon Ramsay or not, I hope that you won't miss this event and enjoy cooking with us.
Join us!!!