About two weeks back, Lena from
Frozen Wings
and I finally met!
Lena is my one of our
bake-along
buddies. We have never meet each other before and only know each other through blogging. A year back, Lena and I were follower of each other blogs and we were corresponding a lot, leaving our comments at our blog posts. In the midst of last year and my early bread baking days, I started writing to Lena to seek her advices in bread baking. Then, she invited me to be part of our bake-along team, all together with Joyce from
Kitchen Flavours
and now Joyce, Lena and I are great friends.
This is my first time face to face seeing Lena and I was very excited to see her. As I was waiting at the Flinders train station at Melbourne city, I was busy scanning around for any potential Lena-looking ladies. I kept asking myself "is this Lena?" or maybe not. When she arrived, I knew that this is her! I think this is funny because I sound like I was dating an online friend...LOL!
I was very comfortable chatting with Lena. I brought her to the well-equipped
spice shop
at Lygon and we had a nice lunch at a cafe,
Brunetti
. Lena has been very thoughtful to me and my family and gave me lots of gifts. Amongst all are these two cookbooks which I would like to cook and bake one recipe from each book to express my gratitude to Lena's generosity.
The meaning of "QQ" in Chinese term means chewy food with bouncy texture. This recipe, "QQ" cornflour bread is from the book, The Second book of Baking for Beginner by Carol. The recipes in this book are all written in Chinese and when Lena knew that my husband can translate these Chinese recipes for me, she decided to give me this book.
The addition of cornflour in this bread dough is meant to give the bread a little bouncy "QQ" texture but can cause the dough to have insufficient gluten strength to rise to a higher height. This recipe recommends 10 cm high Pullman tin but mine is 11 cm high and unfortunately, the bread dough just can't rise slightly higher to form a perfect square shape in my higher Pullman tin. Nevertheless, the bread is actually quite "QQ" with a nice buttery "brioche-like" taste.
At the same time, I've also cooked a nice and easy Korean spicy chilled buckwheat noodles for our family's dinner based on a recipe from the other book, Seoul Kitchen by Debbie Lee. I must admit that the sauce of this noodle dish is little too spicy for my son but my husband and I were happily enjoying it. Eventually, I had to prepare a non-spicy sauce but his non-spicy sauce is just not Korean enough.
"QQ" Cornflour Bread
delicious slices of "QQ" bread...
Notice that the bread in this book has a more compact texture with smaller pores than mine? I think my bread has reached its maximum height, resulting a fluffier bread with larger pores size.
My Korean Spicy Chilled Buckwheat Noodles
Cooking the noodles...
Here are the recipes of "QQ" Cornflour Bread and Korean Buckwheat noodles.
(with my slight modification in blue)
"QQ" Cornflour Bread from The Second book of Baking for Beginner by Carol
(original in Chinese language, now translated to English)
250g Bread flout
50g Corn flour
1/2 tsp yeast
1 egg
20g sugar
1/4 tsp salt
30g butter, cut into small pieces
150ml milk
1. Place all ingredients (reserving 30ml of liquid and except butter) into a mixing bowl. Mix well. Add the reserving liquid slowly and mix well when adding until a dough has formed.
2. Add butter into the dough and mix until well-combined.
3. Knead the dough until it can be stretched to form a "window panel".
4. Shape the dough into a round shape and place it into a lightly oiled bowl.
5. Spray water onto dough surface and cover it with moist cloth. Prove in a warm place with high humidity for 60 min or until double in size.
6. De-gas dough on a lightly floured surface.
7. Divide dough into 2
(or 3)
, shape them into round shape and cover them with moist cloth and allow them to rest for 10 min.
8. Roll each divided dough into a flat oval shape and roll them up to form a log shape. Allow it to rest for 15 min.
9. Roll each divided dough to 35cm long and roll them loosely towards front. Place them with seam side down into lightly oiled baking tin.
10. Flatten the doughs slightly to ensure rising to same height of all doughs.
11. Spray water onto dough surface and prove for another 50-60 min or until the baking tin is 80% full.
12. Preheat oven to 210
°C

(or 190
°C fan forced)
.
13. Place the cover of the tin when the baking tin is 90% full and bake for 38-40min.
14. Remove the bread immediately from baking tin when it was baked and allow it to cool completely on a wire rack.
Spicy Chilled Buckwheat Noodles from the other book, Seoul Kitchen by Debbie Lee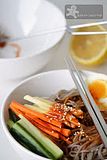 Serve 6
225 buckwheat noodles (naeng myun), dried or frozen
3 tbsp sesame oil
1 red onion, julienned
(I didn't add this - we don't like to eat raw onions)
3 tbsp rice wine vinegar
(I didn't add this)
1 tbsp granulated sugar
(I didn't add this)
Salt and pepper to taste
1 cucumber, julienned
1 Fuji apple, julienned
2 carrots, julienned
For Gochujang Vinaigrette:
4 tbsp chilli bean paste (gochujang)
3 tbsp honey
4 tbsp rice wine vinegar
(replaced with normal white vinegar)
2 tbsp soy sauce
4 tbsp sesame oil
(reduced to 1 tbsp)
3 eggs, hard boiled, peeled and halved
4 tbsp chopped spring onions for garnish
(I didn't do that, instead I sprinkled some toasted sesame seeds.)
Half-fill a large stockpot with water and bring it to boil with a pinch of salt. Add the noodles, stirring occasionally with tongs to make sure the noodles don't clump and cook for 6 to 8 min if using dried noodles and 4 to 5 min if using frozen. As soon as the noodles are cooked, immediately run under cold water, stirring with the tings again to keep the noodles from clumping. Once the noodles are cool, drain and transfer to a mixing bowl. Drizzle with the sesame oil and toss so the noodles keep their elasticity.
In a small mixing bowl, combine red onion, rice wine vinegar, sugar and a pinch of salt. Toss well set aside.
(I skipped this step.)
In a food processor, combine all ingredients for the vinaigrette except for sesame oil, and puree
(I combined the ingredients with a hand whisk).
Drizzle in the sesame oil, binding well to emulsify the vinaigrette. Return to the small mixing bowl and set aside.
In a large mixing bowl, combine the noodles, half of the cucumber, the apples and carrots and half the vinaigrette. Season with salt and pepper and toss well, making sure to evenly distribute the ingredients. Arrange in the middle of a large serving bowl or divide into 6 bowls. Drizzle with additional dressing and top with this remaining cucumber and boiled eggs.
Sprinkle with spring onions
(or toasted sesame seeds)
and serve immediately.
Note: I've used half amount of the recipe and 250g noodles to serve three.

Thanks Lena! Nice to know you through blogging...

Happy Blogging, Happy Baking and Happy Cooking!
Please support me and like me at Facebook.