We love our lemon thyme plant. Every time when we are relaxing at our balcony, my son will pick a few of our lemon thyme, crush the leaves, rub them on his hands and then smell his hands with lots of deep breath.

"Mummy, do you want to smell my hands?" He will then ask me to smell the leaves with him and I will. Indeed, I think lemon thyme did smell a little like lemon and we both loves the fragrance of lemon and these lemon thyme leaves. This recipe from the MasterChef Magazine, July 2011 issue is quite unique; it uses lemon thyme to enhance the taste of a frittata. Good that this magazine is free, but only for this issue from its app download.

Being a health freak, I never like the idea of using butter in my savoury cooking but today, I will try cooking this frittata as much as I can in the "MasterChef" way. Or maybe not exactly... I did try to stick to the recipe as much as I can but it is always limitations in some cases...

When I buy a bunch of spring onions or leeks, they usually come in a bundle of 8-10 and the frustration bit is that I need only 2 of each in this recipe! To minimise wastage, I have decided to replace leek with the the white parts of spring onion. I didn't want to waste extra money again, buying flat-leaf parsley and so I replaced them with baby spinach which is part of our salad for the day. Plus, another ingredient in this recipe, the white balsamic vinegar is not easily available in any local stores and supermarkets and so it is not available at the time when I cook this dish. I reckon...trying to cook like a MasterChef is really not easy and very money consuming. I think I'm more like a thrifty mum in this case. LOL!

Despite all the efforts, this dish is really really really delicious just like what a good cafe would serve. The spring onion dressing is a must to compliment this dish and my husband and son think that I should cook more like a "MasterChef" more often... Hmmm :)
Here's the recipe from the MasterChef Magazine, July 2011
(with my minor modification and notes in blue)
Potato and Lemon Thyme Frittata

Serve 4 as a light meal

60g butter
2 leeks, white part only, halved lengthwise, thinly sliced
(replaced by white parts of spring onions)
2 garlic cloves garlic, crushed
8 sprigs lemon thyme, leaves picked
2 large Desiree potatoes, peeled, cut into 2 cm pieces
(used only 1, 2 is too much for us to finish)
1/4 cup flat-leaf parsley, chopped
(replaced by baby spinach)
40g (1/2 cup) finely grated Parmesan
8 eggs
Rocket
(replaced by baby spinach)
and char-grilled vegetables (optional), to serve
Spring Onion Dressing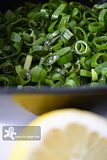 2 spring onions, trimmed, roughly chopped
2 tbsp flat-leaf parsley, chopped
(I didn't add this)
2 tsp white balsamic vinegar
(replaced by 1 tsp white vinegar and 1 tsp original balsamic vinegar)
2 tsp lemon juice
1 tsp caster sugar
60ml (1/4 cup) olive oil
(reduced to 1 tbsp)
To make spring onion dressing, process all the ingredients in a food processor until combined. Season with salt and pepper.
Preheat oven to 200
°C
. Melt half the butter in a 24 cm
(mine is 26 cm)
oven proof frying pan over medium heat. Add leeks
(white spring onion)
and garlic, and cook stirring occasionally for 10 min or until leeks
(white spring onion)
are soft.
Meanwhile, melt remaining butter in a large frying pan over medium-high heat. Add thyme and potatoes, and cook, turning for 5 min or until golden. Using a slotted spoon, remove potatoes and drain on paper towel. Add half the potatoes
(I added all from 1 potato)
to the leek
(white spring onion)
mixture and season.
Place parsley
(I didn't add this)
, Parmesan and eggs in a bowl and whisk to combine. Pour egg mixture over leek
(white spring onion)
mixture and stir gently to combine. Transfer the pan to the oven and bake for 15 min or until frittata is firm but slightly wobbly in the center (it will continue to cook).
Scatter with reserved potatoes
(I didn't have any reserved potatoes)
and rocket
(baby spinach)
, if using. Drizzle with a little spring onion dressing and serve with remaining dressing on salad or char-grilled vegetables, if using.
Happy Baking
Please support me and like me at Facebook.