"Do you want to have a red velvet cupcake pop or a red velvet cupcake?"
Funny that my son gave me a blank stare when I asked him this question. I feel like reading a tongue twister whenever I ask this question.
Now...would you like to have this?
or this?
Actually both red velvet cupcakes are made using the same recipe from the book, The Hummingbird Cookbook by Tarek Malouf. I've heard and read lots of great reviews of this recipe and was extremely keen to bake and taste these cupcakes. These cupcakes are indeed extremely fabulous! They are light and fluffy in texture, mild in sweetness and compliment very well with its sweet cream cheese frosting.
Apart from baking these Hummingbird red velvet cupcakes, there is another thing that I always want to do... To transform these cupcakes into cake pops! Am I a big fan of
Bakerella
? Absolutely! I have a copy of her book and keep browsing it from time to time. I have been thinking and thinking a lot of making my own cake pops but wasn't brave enough to make an attempt. Now, here I am... presenting my very own little red velvet cake cupcake cake pops, proudly made all the way from scratch! LOL!
I'm having a bite now! Yum!
Here are the recipes of the Red Velvet Cupcakes and Red Velvet Cupcakes Cake Pops
(with my slight modification and notes in blue)
Red Velvet Cupcakes from The Hummingbird Cookbook by Tarek Malouf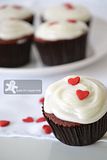 Makes 12
caster sugar
60g unsalted butter, at room temperature
150g
1 egg
10g cocoa powder
(I choose not to use Dutch processed - see my notes)
20ml red food colouring
(I used 10ml Wilton one)
1/2 tsp vanilla extract
120 buttermilk
(I used milk)
150g plain flour
1/2 tsp salt
1/2 tsp bicarbonate of soda
(I choose not to replace this with baking powder - see my notes)
1 1/2 tsp white wine vinegar
(I used just white vinegar)
Place butter and sugar in an electric mixer and beat until light and fluffy. Turn the mixer up to high speed and slowly add the egg and beat until everything is well incorporated.
In a separate bowl, mix together the cocoa powder, red colouring and vanilla extract to make a thick dark paste. Add to the butter mixture and mix thoroughly until evenly combined and coloured.
Turn the mixer to slow speed and slowly pour in half the buttermilk
(or milk)
. Beat until well mixed, add half the flour, and beat everything is well incorporated. Repeat this process until all buttermilk
(or milk)
and flour have been added. Turn the mixer up to high speed and beat until mixture turn smooth and evenly mixed. Turn mixer to low speed and add salt, bicarbonate of soda and vinegar. Beat until well mixed, then turn up the speed again and beat for a couple more min.
Spoon the mixture into paper cases until 2/3 full and bake in preheated oven for 20 to 25 min or until sponge bounces back when touched. Leave cupcakes cool slightly in the tray before turning out onto a wire cooling rack to cool completely.
When the cupcakes are cold, spoon the cream cheese frosting on top.

Cream Cheese Frosting

Amount to frost 12 cupcakes:
300g icing sugar
50g unsalted butter, at room temperature
(replace with extra light cream cheese)
125g cream cheese, cold
Beat the icing sugar and butter together using an electric mixer until mixture is well mixed. (As I've replaced the butter with extra cream cheese, I've skipped this step). Add the cream cheese in one go and beat until it is completely incorporated. Turn the mixer up to medium high speed and continue beating until frosting is light and fluffy. Do not over beat as it can quickly become runny.

Note:

I made 11 cupcakes with this recipe but half the amount of frosting to ice 6 cupcakes. For the cupcakes frosting, I've used the extra light cream cheese to make the frosting. For the cake pops, I've made the frosting using 1/4 of the frosting recipe and used the normal cream cheese instead. Both frosting were chilled for at least 30 min before use.
For the cupcakes: I've piped the frosting onto cupcakes and decorated them with a couple of heart sprinkles. Please note that the lighter version of frosting will be runny and there will no be any defined piping design on the cupcakes and yet the frosting can stay on its position quite well.
Normal cocoa powder (the non-Dutch processed ones) is usually slightly acidic and lighter in its colour. For this reason, I would prefer to use the non-Dutch-processed one for its slightly acidic pH to ensure the pH balance of the cake batter and its lighter colour to achieve more redness in colour of the cake batter.
My family and I dislike the after-taste of bicarbonate of soda in all our cakes and cookies. However, I would prefer not to replace bicarbonate of soda with baking powder in this bake as I reckon the soda being alkaline is very essential to react with the acid from vinegar to create a light and velvety texture. In fact, I reckon the cake chemistry works quite well for this recipe and there wasn't much soda after-taste in my cupcakes.


Red Velvet Cupcakes Cake Pops
There are basic instructions found in
Bakerella
website for cake pops making, but I reckon that the instructions of making cake pops can vary quite a bit based on case-to-case basis and this is how I made my cake pops from my red velvet cupcakes...
Make 7 cake pops
3 plain red velvet cupcakes
Cream cheese frosting (1/4 quantity of the above recipe)
Wilton red candy melt
Wilton white candy melts
Vegetable oil (Canola oil)
Lollipop sticks
Mini red M & M
Hundreds and Thousands
Flower-shape cookie cutter
After cupcakes are cooled completely, crumble them into a bowl.
Start by adding 1-2 tbsp cream cheese frosting into the cake crumble and mix thoroughly. Add more bit by bit while mixing and stop adding when the mixture form a workable dough texture. (I had about less than 2-3 tbsp frosting left when the cake dough was formed.)
Roll each tablespoonful of mixture into balls. Shape their "bottoms" with the flower-shape cookie cutter and and lay their top side on the tray or plates.
Chill for 1 hr or more.
Melt both candy melt separately in microwave according to the directions on the package.
Add vegetable oil into each melted candy melt until a smooth consistency is achieved.
Dip the "bottoms" of the cake balls onto the red candy melt and place their top sides on tray or plates. Being the red candy melt set, coat about 1-2 cm of the lollipop stick with red candy melt and insert the coated part of the lollipop stick into the cake balls. Allow the red candy melt to set.
With the lollipop sticks, these cake balls are officially cake pops now.
Holding the lollipop stick, coat the top of the cake balls into the white candy melt. Place the cake pop on a supporting cup or Styrofoam and sprinkle their top with a small pinch of Hundreds and Thousands and not forgetting the final touch of placing a mini M & M on the top middle of the cake pops. Allow the white candy melt to set and they will be all ready to eat!
Happy Baking and Happy Valentine's Day
Please support me and like me at Facebook.