I can't stop thinking that I have to make these burgers!
The pictures of these burgers seems to be appearing in everywhere! These burger were featured in the front cover of the latest
Donna Hay magazine
and these magazines are selling everywhere in Melbourne. Then, I saw them again!... in Sunday magazine which comes with the Herald Sun newspaper as I was reading the papers on one Sunday morning. Clearly, I have come to a point, knowing the message is obvious...ok ok! I will cook these burgers!
In actual fact, I am very happy that I made these burgers and I'm proud to say that these "Mummy" burgers are made with lots of love and yummy ingredients...
Like most kids, my son loves eating at McDonald's. Honestly, I used to like McDonald's when I was a kid but I don't really like their food now. Sometimes, I have to pretend being excited when we are at McDonald's, all for the sake of the family's enjoyment. LOL! When my son saw my "Mummy" burgers, he thinks that they are like McDonald's burgers! He was pacing behind me while I was assembling the burgers and can't wait to eat one of them. This jam-like beetroot relish is a must for these burger and everything taste so good together being in these burgers.
"Mummy, I love your Big M burger!"...my son had his thumb up when he had the last bite of his burger. I'm so happy that my family likes these burgers.
Proudly presenting my Mummy burger
These burgers are everywhere in the front cover of the DH magazines...
Assembling the ingredients...my family can't wait to eat these burgers!
Here are the recipes for making all the components of these burgers
(with my slight modification in blue)
Beef and Chorizo Burgers with Beetroot Relish from Donna Hay Magazine
(Feb/Mar 2012 Issue )
Make 4
500g beef mince
1 chorizo, skin removed
sea salt and cracked black pepper
olive oil, for brushing
1/4 cup sour cream
1/4 cup horseradish cream
(I didn't use this as I was afraid that horseradish might too hot for my son to eat)
4 bread rolls halved
(I'm using freshly baked burger buns)
50g baby spinach leaves to serve
beetroot relish
200g can beetroot, drained and finely chopped
1/3 cup balsamic vinegar
1/3 cup brown sugar
To make the relish: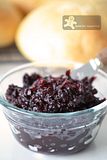 Place the beetroot, vinegar and sugar in a saucepan over high heat and bring to boil. Reduce heat to medium and cook for 15 min or until thickened. Set aside.
To make the patties:
Place the beef, chorizo meat, slat and pepper in a food processor and process until well combined. Shape into 4 patties. Preheat a char-grill pan or BBQ on high heat. Brush the patties with oil and cook 4-5 min on each side or until cooked through.
Mix to combine the sour cream and the horseradish mixture
(I didn't do this)
. Spread the rolls with sour cream mixture. Top with the patties, relish and spinach leaves to serve.
Burger Rolls from King Arthur Flour
These burger rolls from
King Arthur Flour
has been in my to-bake list for ages. I have heard great review of this recipe from Joyce from
Kitchen Flavours
and now this is a great opportunity for me to make these rolls in order to make these beef and chorizo burgers. Thanks Joyce! These rolls are really fantastic!
Yield: 8 large buns.
3/4 to 1 cup lukewarm water
(I use 1 cup of water)
2 tbsp butter
1 large egg
3 1/2 cups King Arthur Unbleached All-Purpose Flour
(
in a combination of bread flour and Italian OO flour in the ratio of 1:4)
1/4 cup sugar
1 1/4 tsp salt
1 tbsp instant yeast

*For best results (a smooth, slightly soft dough), use the smaller amount of water in summer (or in a humid environment), the greater amount in winter (or in a dry climate); and something in between the rest of the time.
Topping
3 tbsp melted butter
(reduce to 2 tbsp)
1) Mix and knead all of the dough ingredients — by hand, mixer, or bread machine — to make a soft, smooth dough.
2) Cover the dough, and let it rise for 1 to 2 hrs, or until it's nearly doubled in bulk.
3) Gently deflate the dough, and divide it into 8 pieces. Shape each piece into a round ball; flatten to about 3" across. Place the buns on a lightly greased or parchment-lined baking sheet, cover, and let rise for about an hour, until noticeably puffy.
4) Brush the buns with about half of the melted butter
(and sprinkle each buns with a small pinch of either sesame or poppy seeds)
5) Bake the buns in a preheated 375°F oven for 15 to 18 mins, until golden. Remove them from the oven, and brush with the remaining melted butter. This will give the buns a satiny, buttery crust.
6) Cool the buns on a rack.
Happy Baking and Cooking.
Please support me and like me at Facebook.