We don't have 2 1/2 men in our house but only 1 1/2 men... LOL!
In order to please both of my 1 1/2 men, I'm baking a Beer Bread for my full numbered man and a Milk Bread for my half-sized man. Both breads use
muscovado
sugar for extra flavours. We really love the contrasting flavours of both breads, the beer one has more robust flavours like a tough man while the other one is soft and fluffy just like a "baby". It was fun for me baking these breads to suit the tastes of two very different men in my house...
Making the Beer Bread...
Making the Milk Bread
Here are the recipes both from the book, Bread Machine Easy by Sara Lewis
(with my modification in blue)
Milk and muscovado bread
Make one 750g loaf:
275ml water
2 tbsp milk powder
2 tbsp butter, at room temperature
1 tsp salt
475g bread flour
2 tsp light muscovado sugar
1 1/4 tsp fast action dried yeast
Beer and Brown Sugar Bread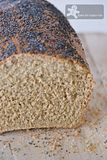 Make one 750g loaf:
300ml pale beer or lager
2 tbsp sunflower oil
(replaced with canola oil)
1 tsp salt
100g rye flour
375g strong granary flour
(I've added gluten flour to strengthen my flour, see my note*)
2 tbsp dark muscovado sugar
1 1/4 tsp fast action dried yeast
To finish each of both loaves:
1 tbsp milk
1 tbsp poppy seed
Lift the bread pan, out of the bread machine and fit the kneader blade. Add the liquid ingredients, butter (milk bread only) and salt. Spoon in the flour, make dip in the center and add the sugar and yeast.
Insert the pan into the bread machine, shut the lid and set to 750g loaf on a basic white setting (for milk bread) or wholewheat setting (for beer bread) with the preferred crust setting. Press Start.
For the beer bread: just before baking begins, brush top of the bread with milk and sprinkle with poppy seeds. Gently and quickly shut the lid and continue the programme.
At the end of programme, lift the pan out of the machine using oven gloves. Loosen the bread with a plastic spatula, turn it out onto a wire rack and leave to cool.
Note:

Using 2/3 of the recipe, I've made each loaf using a 10 cm x 20 cm loaf pan. I placed all the ingredients into the bread machine and use "dough" setting to knead and prove the dough.

At the end of programme, the bread dough is removed, shaped and further proved for 50-60 min. Both loaves were baked at 160°C fan forced for 40 min.
*To create a "stronger" wholemeal flour, I've added 25g of gluten flour into 330g of my wholemeal flour.
Happy Baking
Please support me and like me at Facebook.