I know that baking ciabatta can be very challenging. The bread dough can very wet and difficult to handle.
For this bake-along,
I'm excited that Lena, from
Frozen wings
,
Joyce from
Kitchen Flavours
and I are
baking ciabatta and look forward for this challenge!
I had a few ciabatta recipes to choose and can't decide between two... So, I guess the decision is clear and have decided to bake two ciabatta recipes.
The first recipe that I chose is from
the book, The Ultimate Bread Machine Cookbook by Jennie Shapter. To me, this recipe
seems to be the most common way of making a ciabatta. Not surprising, t
he bread dough made from this recipe is really wet and difficult to handle. As instructed by the book, I wasn't tempted to add more flour into bread dough
and the bread turned out being beautiful! It is crusty at its outside and soft, spongy and moist at its inside. I would highly recommend this recipe.
I chose the second recipe purely out of curiosity. Unlike the first recipe, this biga is firm and uses semolina flour.
The recipe is designed in the way that the dough is actually made using fresh yeast. I didn't fresh yeast when I made this bread and took the risk of replace the fresh yeast with the dried ones a
nd I'm very surprised that everything work well for me. Interestingly, this bread didn't need a final proving stage after shaping and I was susceptible initially and waited for 30 min after shaping to see if there is any difference. True enough, the bread dough didn't grow in size after the 30 min but to my surprise, it is the baking that puff up the bread the most.
Comparing both breads, my first ciabatta has a more delicate bread texture while the second one
has coarser bread texture with a thicker crust and I think this is due to the addition of semolina. Personally, I think that the first ciabatta tastes better than the second one but the second recipe is also good in the way that the bread
can be easily made by hand and has a
shorter fermentation time.
Ciabatta One
Ciabatta One - simply beautiful
A closer look of ciabatta One - dipping into olive oil
Ciabatta Two
Ciabatta Two's biga
Making ciabatta Two
A closer look of ciabatta Two
Here are the recipes
(with my modifications in blue)
Ciabatta One
from the book, The Ultimate Bread Machine Cookbook by Jennie Shapter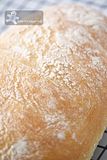 Make 2 loaves
For the biga:
200ml water
175g bread flour
1/2 tsp dried yeast
For Ciabatta dough:
200ml water
30ml (2 tsp) milk
30ml (2 tsp) extra virgin olive oil
325g (3 cup) bread flour, plus extra for dusting
1 1/2 tsp salt
1/2 tsp granulated sugar
1/4 tsp dried yeast
1. Pour the water for the biga into bread pan. If necessary, reverse the order in which you add the liquid and dry ingredients. Sprinkle over the flour, covering the water. Make an indent in the centre of the flour; add the yeast.
2. Set the bread machine to the dough setting (if available). Press start. Mix for 5 min, then switch off the machine.
3. Leave the biga in the machine, or place in a large mixing bowl covered with lightly oiled clear film, overnight or at least 12 hrs, until the dough has risen and is just starting to collapse.
4. Return the biga to the pan, if necessary. Add the water, milk and oil for the ciabatta dough. Sprinkle over the flour. Add the salt and sugar in separate corners. Make a small indent in the centre of the flour and add the yeast.
5. Set the bread machine to the dough setting. Press start.
6. When the cycle has finished, transfer the dough to a bowl and cover with oiled clear film. Leave it to rise for about 1 hr, until dough has triple in size. Sprinkle two baking sheets with flour.
7. Using a spoon or a dough scraper, divide the dough into 2 portions. Carefully tip one portion of the dough on to one of the prepared baking sheets, trying to avoid knocking the air out of the dough.
Using well floured hands, shape the dough into a rectangle loaf about 2.5 cm thick, pulling and stretching as necessary. Repeat with the remaining piece of dough.
8. Sprinkle two loaves with flour. Leave them uncovered in a warm place for about 20-30 min. The dough will spread and rise. Meanwhile preheat oven to 220°C.
9. Bake the ciabatta for 25-30 min or until both loaves has risen, are light golden in colour and sound hollow when tapped on the base. Transfer them to a wire rack to cool before serving with butter, olive oil for dipping.
Note: Using half the recipe, I've made one Ciabatta loaf and bake it at 200°C fan forced for 25 min
. Instead of using the bread machine, I've made the biga by hand. I mixed all the biga ingredients together and kneaded the dough for about 5 min and followed the rest of the instructions (step 3 to 9) accordingly.
Ciabatta Two
from Epicurious
For biga
1 cup plus 1 tbsp room-temperature water (75°F to 80°F)
1 1/4-ounce package dry yeast
(can be replaced by 3 tsp instant dried yeast)
3 1/3 cup bread flour
For dough
Biga (starter dough; see above)
3/4 cup plus 2 tbsp room-temperature water (75°F to 80°F)
Pinch of dry yeast
1/2 cup plus 3 tbsp semolina flour
2 1/2 tsp salt
Additional semolina flour
Make biga:
Place water in processor. Sprinkle yeast over. Let stand until yeast dissolves, about 8 min. Add 1 cup flour; process until blended. Scrape down sides of work bowl. Add 1 cup flour; repeat processing and scraping. Add remaining 1 1/3 cups flour. Process until small moist clumps form. Gather dough into ball (dough will be firm); place in large bowl. Cover; chill overnight (biga will soften, resembling thick oatmeal in texture -
mine didn't look like thick oatmeal, it just look more relaxed than when it was first made
).
Make dough:
Pull biga into walnut-size pieces; place in a clean large bowl. Add water, yeast and 1/2 cup plus 3 tbsp semolina. Using 1 hand, squeeze ingredients together 2 min. Work dough 4 min by scooping sections from sides of bowl and pressing into center, blending into very soft, shaggy mass. Using spatula, scrape dough from sides of bowl into center. Let dough rest in bowl, uncovered, 10 min.
Sprinkle salt over dough. Using 1 hand, knead dough by rotating bowl 1/4 turn at a time, scooping dough from sides and folding down into center until dough starts to come away from sides of bowl, about 5 min. Scrape dough from hand and sides of bowl. Cover bowl with towel; let dough rest 20 min.
Rotating bowl 1/4 turn at a time, fold dough over onto itself 6 times; turn dough over in bowl. Cover with towel and let dough rest in bowl 20 min.
To bake bread:
Preheat oven to 425°F (or 200°C fan forced). Sprinkle work surface with additional semolina. Turn dough out onto semolina. Using pastry scraper or large knife, cut dough in half; keep halves separated. Let stand, uncovered, 20 min.
Sprinkle 2 large baking sheets with additional semolina. Transfer each dough half, semolina side up, to 1 sheet. Stretch each dough half to 16 x 4-inch rectangle. Press fingertips into dough in several places to dimple surface (characteristic of this bread). Bake until golden brown, about 25 min. Cool.
Note: Using half of the recipe, I've made one loaf of ciabatta.
Happy Baking
Please support me and like me at Facebook.
Please note that the linky tool for bake-along is no longer available.