When my son and I bought a package of mini marshmallows from Coles, I recall seeing a Junior Masterchef contestant, Miraede making her
sheep cupcakes
with mini marshmallows and thought of baking Donna Hay's basic cupcakes with this pack of marshmallows.
Then, my imagination went crazy... At first, I was thinking of St Patrick's Day and wanted to make the green sheep cupcakes. Then, this idea reminds me of the baby book, "Where is the Green Sheep?"...
I always remember the happy moments that my son and I had when we were reading "Where is the Green Sheep?". Now that my son is becoming three, this book is not as frequently read as before but we sometimes still re-visit this book with lots of similes, thinking about the sheep that we described a few years back.
We can't stop thinking of the sheep in the book while eating these cupcakes. As we were browsing through the book again, I saw these three sheep that are eating and chatting about their cakes and immediately, I said "Hey! That's mummy,
Lena
and
Joyce
!" My son was a little bit confused seeing me so excited over this picture.
Where is the Green Sheep?
A basic cupcake recipe from the book, Donna Hay (Modern Classic Book 2)
This cupcake is so innocent-looking.
The green sheep and pink sheep found each other...
This is how we enjoy reading this baby book...
Here are the recipes that I used to make and assemble these cupcakes.
(with my modification and notes in blue)
Cupcakes from the book, Donna Hay (Modern Classic Book 2)
125g unsalted butter, softened
3 eggs
1 1/2 cups plain (all purpose) flour
1 1/2 tsp baking powder
2/3 cup caster sugar
1/4 cup (60 ml) milk
1 tsp vanilla extract
Preheat oven to 180°C

(or 160°C fan forced)

. Place the butter, eggs, flour, baking powder, sugar, milk and vanilla in a bowl of an electric mixer and beat for 4 min or until smooth and a pale creamy colour.
Line 12 x 1/2 cup capacity patty tin with a deep paper patty cases. Spoon in the mixture to 3/4 full. Bake for about 18- 20 min

(I bake mine for 18 min)

or until cooked when tested with a skewer. Cool on wire racks.
White Chocolate Ganache from Taste.com.au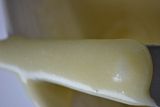 2 x 180g pkts good-quality white cooking chocolate, chopped
125ml (1/2 cup) thickened cream
Place the chocolate and cream in a medium heatproof bowl over a medium saucepan half-filled with simmering water (make sure the bowl doesn't touch the water).
Use a metal spoon to stir occasionally until chocolate melts and mixture is smooth. Place in the fridge for 1 1/2 hours

(I didn't place mine in the fridge but allow the mixture to cool for about 1hr at room temperature)

, stirring occasionally, or until ganache is spreadable.
Note: This amount is too much to ice 12 cupcakes. I made my ganache with half of the amount and have 3-4 tbsp of excess after icing my cupcakes.
To make each sheep's head:


Using the black colour fondant, roll a piece into a slightly elongated ball which is about 2-2.5 cm wide and this is the head of the sheep. Roll two small pieces into short rods of 0.5 cm length and 0.3 cm wide and they will be the sheep's ears.

Using the white colour fondant, roll two small balls (sheep's eyes) which about 2 mm wide and place both eyes on the sheep's face using your fingers to attach and slightly flatten both balls onto the face.

Using the black colour fondant, pinch two very small piece (pupils of the eyes) and place them gently on top of the white part of both eyes.

Lastly, use a toothpick to poke two holes with a slight angle at the bottom of each face to shape the nostrils of a sheep.

Allow the fondant to set by allow it to air-dry in room temperature (without any cover) and the head will be firm enough to handle.

To assemble the cupcake:




Spread about 2 tbsp of white chocolate ganache onto each cupcake. Press mini marshmallows into the ganache leaving a space on one edge for the sheep's head. Gently attach the sheep's head onto the cupcake. Serve!

Happy Baking
Please support me and like me at Facebook.
Happy Baking!