"Honey burns more quickly than sugar!"
- as Lauren Chattman
describes this recipe in her book.
To counter this, I have chosen to bake this cake in its miniature form and know that I wouldn't have this problem as the inside of smaller cakes will be "cooked" quickly without having their surfaces burnt.
These honey walnut cakes are very moist and delicious!
They are actually very versatile to eat and great even on their own. For extra finishes, I have dressed them with 1) icing sugar 2) drizzle of honey
3) home-roasted honey walnuts or 4) both honey and home-roasted honey walnuts and they are all very delicious!
My family love eating freshly roasted nuts and I have been roasting the nuts according to this nice and simple recipe from
Australian GoodFood magazine. Believe me... whenever I
honey-roast any macadamia or walnuts at home, they are gone very quickly. When I honey-roasted a small batch of walnuts for this bake, the walnuts were gone before the cakes were finished!
I had lots of fun making the cakes...
And dressing them...
Here are the recipes.
(with my modification in blue)
Honey Walnut Cake from the book, Cake Keeper Cakes by Lauren Chattman
1 1/2 cup walnut pieces
1/3 cup sugar
1 cup unbleached all purpose flour
1 1/2 tsp baking powder
1/4 tsp salt
3/4 cup unsalted butter, softened
6 tbsp honey
3 large eggs
1 tsp grated lemon zest
1/2 tsp vanilla extract
Confectioner's sugar
Preheat oven to 350
°
F
(or 160
°
C fan forced)
. Grease a 9-inch round cake pan. Line the bottom of the pan with a circle of parchment paper. Grease the parchment. Dust the pan sides and parchment with flour.
(Instead of a 9-inch round cake pan, I've lined the bottom of 24-hole standard - 30ml capacity muffin pan with a circle of baking paper and used rice bran oil spray to grease the baking paper and sides of each muffin holes.)
Spread walnuts in a single layer on a baking sheet and toast until fragrant, 8-10 min. Let it cool completely.
Combine the cooled walnuts and 1 tbsp of sugar in the bowl of a food processor and process until the nuts are finely ground. Add the flour, baking powder, and salt and pulse until combine.
Add the butter, honey and remaining sugar to the large mixing bowl and beat on medium high speed until smooth, about 2 min, scraping down the sides of the bowl once or twice as necessary. Beat in the eggs, one at a time, scraping down the sides of the bowl after each addition. Beat in the zest and vanilla. Add the nut and flour mixture, 1/2 cup at a time, and mix until just incorporated.
Scrape the batter into the prepared pan and smooth with a spatula. Bake until a toothpick inserted into the center of the cake comes out dry 35 to 40 min. If the cake starts to brown too much around the edges, loosely tent it with foil after 25 min.
(I baked my mini cakes for 13-15 min and didn't need to cover the cakes with any foil.)
Let the cake cool in the pan for 10 min, invert it onto a wire rack, and then turn it right side up again to cool completely. Dust heavily with confectioner's sugar before cutting into wedges
(I didn't have to do this because mine are mini cakes)
and serving.
Store uneaten cake in a cake keeper or wrap in plastic and store at room temperature for up to 3 days.
Note: Using 1/3 of the recipe, I've made 11 of these bite-sized cakes.
Honey Roasted Nuts from Australian GoodFood magazine, June 2011 issue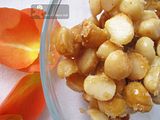 Combine 2 tbsp honey

(+ 2 tbsp raw sugar)

, 2 tbsp olive oil and 1 tsp salt. Add 400g whole macadamias

(or walnuts)

. Toss to coat. Spread over a greased, lined baking tray. Bake in a 180°C or 160°C fan forced oven for 15 min until golden. Cool and serve.
To finish, assemble the cakes all according to the way you like...
Happy Baking
Please support me and like me at Facebook.
Please note that the linky tool for bake-along is no longer available