Knowing that Lena, from
Frozen wings
, Joyce from
Kitchen Flavours
and I are baking this dessert for our bake-along, I can't stop thinking and relating this dessert to my maple-glazed apples which I have cooked with
my buttermilk pancake post
.
After enjoying the maple-glazed apples so much, I thought of making this dessert all according to Zoe's ways. Here are my concepts of transformations:
First is to infuse the maple flavours into pears as much as possible. To do that, I have to slow-roast my pears in maple syrup instead of cutting them into pieces and assemble them as crumble.
Second is to eat this dessert with nice, crispy and crunchy crumble. To do that, I had to bake my crumble mix separately from the pear mixture.
Third is not to hide these beautiful walnut from this dessert. Being part of core ingredients, I had roasted some intact walnuts separately so that they are prominently tasted as part of this whole gastronomic action. LOL!
Last and most important of all is the selection of pears. Based on
Australian Pears
, I am using Beurré Bosc variety which I reckon they are the best option for baking.
Here I am presenting Maple Pear Crunchy Crumble, all baked according to "Zoe's ways"... LOL!
Sweet maple-infused pears with crunchy walnut crumble
The variety that I used for this bake
Slow roasting the pears...
Baking the crumble...
Eat them all together...
Here's the recipe from the book, Bon Appétit Desserts by Barbara Fairchild
(with my modification in blue)
Topping
1 cup all purpose flour
1 cup walnuts
2/3 cup (packed) golden brown sugar
1/2 cup chilled unsalted butter, cut into 1/2 inch cubes
Filling
3 1/2 pounds firm but ripe Anjou pears, peeled, cored, cut into 1/2-inch pieces
(I'm using Beurré Bosc pears, peeled, cored and halved)
2/3 cup pure maple syrup
1/2 cup raisins
2 tbsp all purpose flour
2 tbsp fresh lemon juice
1 tbsp crystallized ginger
Extras to serve
pre-roasted walnuts
sour cream

(I didn't use this)
Make topping:
Combine all ingredients in processor. Process until walnuts are coarsely chopped and small moist clumps form. Transfer topping to medium bowl. Cover and chill until firm, about 1 hr.
(I didn't use a processor to mix my topping. I chopped the walnuts coarsely and mixed all together with a fork and didn't chill it before baking.)
Make filling:
Position rack in center of oven and preheat to 350°F. Place all ingredients in large bowl; toss to blend. Let stand 15 min.
Transfer pear mixture to 13 x 9 x 2-inch baking dish. Sprinkle topping over pears.

(I didn't do that. Instead, I cover the pears with baking paper and then sealed the baking dish with double layers of foil.)

Bake until pears are tender, juices bubble thickly and topping is golden and crisp, about 30 min.

(I bake mine for 45 min. Remove baking paper and foil and bake for another 5 min.)

Let stand at least 10 min - sauce will thicken and become glossy while standing. Serve warm with sour cream

(or crunchy crispy crumble and pre-roasted walnuts)

.
Note:
I've baked my dessert using 1/4 of this recipe. This amount contains about 500g of pears which is about 3 middle sized pears and used a 19 cm x 10 cm baking dish to bake this amount of pears.
Happy Baking
For our next bake-along, we are baking scones
which is to be posted on 26 June 2012.
Please join us and link your post with us on 26 June 2012 or within the next 7 days.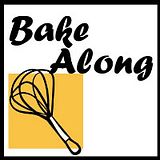 Here are our baking friends that have joined us for this bake-along.
Please visit their blogs for more of their pear and maple crumble.
Please submit your details if you wish to link your post with this bake-along. This linking tool is open from 12 June to 18 June 2012.
To blog hop with us, simply copy and paste this linky HTML code into your blog post where you want the blog hop list to appear. Make sure you are in HTML view/mode when you paste in the code.
get the InLinkz code