The recent flu bugs have been extremely "lethal"... We were all massively attacked by this scary strain of virus and were having high temperature, coughs and snotty noses for the past two weeks. Now that we are recovering, we need good food... LOL!
So, here I am baking these little chicken pies with my two baking buddies, Joyce from
Kitchen Flavours
and Lena, from
Frozen wings
for our bake-along. In fact, these pies are so delicious and it was difficult to believe they were actually made by me.
The pie crust are buttery and flaky and the chicken fillings simply melt into our mouths...

This recipe originates from the book, Bourke Street Bakery by Paul Allam and David Mcguinness and I have modified it to transform the original 12.5 cm pies into these miniature ones. It is too complicated to incorporate my modifications into the original form and I have decided to post my adapted version of this recipe.

I'm happy that there is minimal wastage for this bake. All excess pastries were cut into little chicks and even a run-away chick had no escape from my little hungry "monster"... When these pies and little chicks were served, they were all gone in a glimpse.
Making the pie pastry
Baking the eggplants
Cooking the chicken fillings
Making the pies
I was excited removing them pies from my oven...
The buttery little chicks...
A "chick" run!
A picture speaks a thousand words... I'm speechless after I had my first bite of this pie.
Here's the recipe adapted from the book, Bourke Street Bakery by Paul Allam and David Mcguinness
Make 8 x 7.5 cm pies

Savoury Shortcrust pastry

150g unsalted butter, chilled, cut into cubes
300g plain flour
2g salt
7ml vinegar
85ml water, chilled
Remove butter from the refrigerator 20 min before you start mixing - butter should be just soft but still very cold.

Mix flour and salt in a large bowl and toss through the butter. Use fingertips to rub butter into flour to partly combine. Turn out the floury mix onto a clean surface and gather the mix together.

Combine the vinegar with the chilled water and sprinkle over the flour mixture. Use the palm of your hand to smear mixture away from you across the bench. Repeat this smearing process once or twice to combine the dough together.
The original recipe mentioned that at this stage, we should see steaks of butter marbled through the pastry which gives a slightly flaky texture to the final product but I can only see this effect when I rolled the pastry.
Divide into two even sized portions and shape into two round disc about 2 cm thick. Wrap each disc in plastic wrap and refrigerate for at least 2 hr or overnight.

The Pie Filling

80g eggplant, cut into 1.5 cm cubes
20ml extra virgin olive oil
1 small brown onion, finely chopped
1 garlic cloves, finely chopped
2 thyme sprigs, leaves picked
250g skinless, boneless chicken thigh fillets, cut into 3 cm cubes
20ml verjuice
200g button mushroom, quartered
1/3 tsp white pepper
1/3 tsp salt
20g Parmesan cheese, grated
1 small handful basil, leaves torn

Egg wash, for brushing:

1 egg yolk
50ml milk
Bechamel (French) sauce:

40ml milk
5g butter
4g plain flour, sifted

Preheat the oven to 200°C fan forced. Put the eggplant cubes in a single layer on a tray and sprinkle with a little salt. Set aside for 10 min, then rinse well. Put the eggplant on a baking tray lined with baking paper, drizzle with half of the olive oil and cook for 15-20 min or until tender. Remove from the oven and set aside.

Heat the remaining oil in a large saucepan over medium heat. Add the onion, garlic and thyme and cook for 5 min, or until softened, Add the chicken and cook for 5 min, stirring often. Add the verjuice and stir for 30 sec, or until reduced slightly, then pour in enough water to cover the chicken. Bring to boil, then reduce the heat and simmer for 1 hr or until chicken is tender.

Add the mushroom and baked eggplant to the chicken mixture and add the white pepper and salt. Cook for a further 10 min, or until the mushrooms have cooked through, then strain off the liquid into another saucepan, reserving the chicken mixture in a large container. Continue to cook the liquid over high heat or until reduced by half.

To make the bechamel sauce, heat the milk in a saucepan over low heat so it is slightly warm. Melt butter in a separate saucepan and add flour, stirring until mixture catches the edge of the pan.

Slowly pour in the warm milk and whisk until smooth until smooth and thick. Remove from the heat and pour into the chicken mixture and stir through. Add the Parmesan and stir to combine, then adjust the seasoning. Allow to cool before stirring through the torn basil leaves.

Remove pastry from refrigerator 20 min before you wish to roll it. On a lightly floured surface, gently roll the pastry away until you get a flat round disc about 3 mm thick. Cut the rolled pastry into eight circles with 10 cm diameter and use them to line the base and sides of the pie tins.
For the pie lids, cut out the rolled pastry into six circles with 7.8 cm diameter. Using a little chick cookie cutter, cut a hole in the middle of each pie lid to allow steam to escape while baking.

Spoon the mixture into the pastry-lined pie tins, filling them to the brim. To attached the lid pastry, brush the rim of the pastry base and lid with a little egg wash and lay the lid over the base. Gently press the circumference edge with an end of a fork in order to make a good seal. Brush the top of the pie lid with egg wash.

Reduce oven temperature to 160°C fan forced and bake the pies for 30-35 min or until golden brown on top. Remove the pies from the tins and leave to cool for a few min before serving.


Happy Baking
Here are our baking friends that have joined us for this bake-along. Please visit their blogs for more of their chicken pie baking.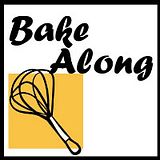 Please submit your details if you wish to link your post with this bake-along. This linking tool is open from 26 July to 1 Aug 2012.

For our next bake-along, we are baking Apple Cornmeal-Upside Down Cake (Recipe from the book, Bon Appetit, pg 72 or here) which is to be posted on 7 August 2012. Please bake-along with us! All you need to do is to bake this cake and blog hop with us on this day or within the next 7 days.
To blog hop with us, simply copy and paste this linky HTML code into your blog post where you want the blog hop list to appear. Make sure you are in HTML view/mode when you paste in the code. get the InLinkz code
Before using this linky tool, please make sure that: (1) Your post must be a current post. (2) Plea

se mention Bake-Along in your post and link back to any of our hosts' Bake-Along post, (Joyce, Lena or Zoe). (3) Appreciate if you can display the Bake-Along badge in your post when linking up with us. Cheers!