These mini cream puffs are super addictive! After I had my first cream puff, I kept popping more into my mouth... then, I realised that I have been eating 5 cream puffs all within the last five minutes!
Both pastry and cream are very light in texture and they are very well balanced and delicious in combination. For an extra texture to my cream puffs, I have added crunchy toppings for more than half of my pastries and I think that they are even better than the plain traditional Choux pastry. In our house, the pastries with crunchy toppings were all gone first before the plain ones.
Both Choux pastry and pastry cream recipes are the basic recipes, published in MasterChef Australia, The Cookbook Volume One. These recipes are quite fail-proof and easy to follow but I've spotted a typo error in Choux pastry recipe and I have corrected it as accordingly. So, no worries!
Here I am killing two birds with one stone again... As I'm u
sing the recipes from MasterChef Cookbook, I'm linking this post to two events, Bake-along (with
Joyce from Kitchen Flavours, Lena from Frozen wings) and Cook like a Star (MasterChef).
Cream puffs made with basic recipes from the Australian Masterchef Cookbook
Making the Choux pastry
Making the crunchy topping
Piping the pastries
Baking the pastries
Making the pastry cream
Filling the pastries
Enjoying a bite of my cream puff...
Here are the recipes
(with my modification in blue)
Simple Choux Pastry from MasterChef Australia, The Cookbook Volume One
Makes 24 profiteroles
50 g butter, chopped
3/4 cup (115 g) plain flour
3 eggs
Method
Preheat the oven to 210°C (190°C fan-forced). Line 2 large baking trays with non-stick baking paper. Place the butter in a large saucepan and add 3/4 cup (185 ml) water. Cook over medium heat until the butter has melted and the mixture comes to the boil. Sift the flour into the pan and beat with a wooden spoon over the heat for about 1 min, until the mixture comes away from the sides of the pan.
Transfer the mixture to a bowl and cool slightly, stirring to release the heat. Add the
yolk
(Typo error! - It should be egg)
one at a time, beating well with electric beaters between each addition, until the mixture is very thick and glossy. To make profiteroles, drop level tablespoons of the mixture onto the trays, leaving 5 cm between them.
Bake for 20-25 mins until puffed and golden brown. Using a skewer, pierce a small hole in the side of each puff. Return to the oven, turn off and prop the door ajar. Leave to cool.
To fill the profiteroles, pierce a hole in the side. Fill a piping bag with simple pastry cream.
Note: Using this recipe and Wilton 21 piping tip, I can piped out 32 mini pastries and have 2-3 tbsp of excess batter as leftover.
Crunchy P
rofiteroles
Topping, mostly adapted from a William Angliss short course that I attended
Makes 25 toppings
50g butter, soften
60g brown sugar
60g cake flour (mine has 8% protein content)
vanilla seeds from 1/4 of vanilla pod
Combine all ingredients together to form a dough.
Shape the dough into a log. Wrap it with cling wrap and allow it to rest in fridge for at least an hour.
When ready to use, cut it into thin slices (about 2mm thick) and place each slice on top of the piped pastry. Bake pastry according to the above Choux pastry instructions.
Simple Pastry Cream from MasterChef Australia, The Cookbook Volume One
Makes about 1 cup (250 ml)
(to fill 12 profiteroles)
200 ml milk
1/2 vanilla bean, split
3 egg yolks
1/4 cup (55g) caster sugar
1 tbsp cornflour
20g butter
Method
Stir the milk and vanilla bean in a small saucepan over medium heat until almost boiling. Remove bean.
Meanwhile, whisk the yolks, sugar and cornflour in a bowl until thick and pale. Gradually whisk the hot milk into the egg mixture. Return the mixture to a clean saucepan. Whisk over a medium heat until the custard boils and thickens. Spread over a tray to cool rapidly. Cover the surface of the custard with cling film to prevent a skin forming.
When the mixture has cooled to 55°C, transfer it to a bowl and stir through the butter.

Refrigerate to cool completely.
Note: This amount of cream made with this recipe can only fill 12 cream puffs and so I had to make another batch the fill up the rest.



Happy Baking
Here are our baking friends that have joined us for this bake-along. Please visit their blogs for more of their cream puffs baking.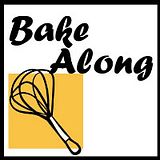 Please submit your details if you wish to link your post with this bake-along. This linking tool is open from 27 Sep to 3 Oct 2012.
For our next bake-along, we are baking
World's Quickest Yeasted Coffee Cake (Recipe from the book, Cake Keeper, Pg 39
which is to be posted on 8 October 2012. Please bake-along with us! All you need to do is to bake this cake and blog hop with us on this day or within the next 7 days.
To blog hop with us, simply copy and paste this linky HTML code into your blog post where you want the blog hop list to appear. Make sure you are in HTML view/mode when you paste in the code. get the InLinkz code
Before using this linky tool, please make sure that: (1) Your post must be a current post. (2) Plea

se mention Bake-Along in your post and link back to any of our hosts' Bake-Along post, (Joyce, Lena or Zoe). (3) Appreciate if you can display the Bake-Along badge in your post when linking up with us. Cheers!
This post is also linked to the blog hop event, Cook like a Star, organised by me, Bake for Happy Kids, Anuja from Simple Baking and Baby Sumo from Eat your heart out. For more details, please see this.