Before this bake, I've been thinking of baking Linzertorte for ages... Good that one of my baking buddies, Joyce from
Kitchen Flavours
has suggested this theme for our bake-along and here I am happily baking my first Linzertorte with Joyce and Lena from
Frozen wings
.
Besides baking this delicious torte, I'm curious to know... What is Linzertorte? According to
Wikipedia
, It is an Austrian torte with a lattice design on top of the pastry is named after the city of Linz, Austria. Linzertorte is known as a holiday classic in the Austrian, Hungarian, Swiss, German, and Tirolean traditions, often eaten at Christmas. It is transformed and made into smaller tarts or cookies in the North American bakeries.
No wonder, I do noticed the slight similarities between both typical Linzertorte and Linzer cookies recipes. Since there isn't much difference between a Linzertorte and Linzer cookies, I have decided to both for this bake-along. Me being a crazy baking woman again... LOL!
I'm a big fan of
Belinda Jeffery
and this Linzertorte recipe is from her book, The Country Cookbook by Belinda Jeffery. This book is written in the form of a diary and formatted according to the beautiful seasons of Australia. I love how Belinda uses lots of fresh seasonal produces in all her food and bakes and how she enjoys the beauty of baking and cooking in Australia. I like Belinda Jeffery but think that her website has very limited number of recipes to cook. For this reason, I'm quite reluctant to have her being the upcoming theme of my blog hop event,
Cook like a Star
. However, if you like Belinda Jeffery
, please feel free to let me know so that we can have a mini-cook-along together.
Now, back to baking... This
torte is actually quite easy to shape and bake. There is no rolling involved in this bake because the torte base is simply pressed onto the tin. The lattice top is simply piped out of a thick plastic bag. The recipe is really versatile... w
ithout eggs, you can even bake this torte into the form of cookies. For an extra challenge, I was even making my own homemade jam...
Me being a crazy baking woman again and again... LOL!
Now being extremely satisfied with both my
Linzertorte and Linzer cookies
, my family and I are too pampered with these yummy choices... Eating these make me feel like Christmas is coming.
Making the strawberry jam
The tart batter
Assembling the tart
Yum!
Making the Linzer cookies
The assembled Linzer cookies
Now, I'm too spoiled with choices...
Here are the recipes

(with my modification in blue)
Please note that I didn't dust my torte and cookies with any powdered sugar. I reckon they are actually very good as it is. So, no extra sugar required...
Jam Linzertorte adapted from The Country Cookbook by Belinda Jeffery

Put the pecans into the bowl of a food processor and pulse them a few times so they're coarsely chopped. Add the flour, salt, cinnamon, cloves and nutmeg, and keep on processing until the nuts are very finely chopped. Tip the mixture into a bowl and set it aside.
(I skipped this processing step because I used almond meal instead of whole nuts and all I did was to combine the flour, salt, cinnamon and almond meal together).


Put the butter and caster sugar into the processor and whiz them for a minute or until light and creamy-looking
(Using an electric mixer, I beat the butter and sugar until light and creamy)
. Give the bowl a good scrape, then add the lemon zest and whiz it in briefly. With the motor running, add one egg at a time, making sure the first one is well absorbed before adding the second.

(While beating the batter, I added egg into my mixture. I noticed that my mixture curd a little and this is because the recipe uses butter which is cold at cool room temperature.)

Add the vanilla extract and whiz

(or beat)

briefly to mix it in. Scrape around the sides of the bowl to make sure everything is well mixed together. Tip the pecan mixture into the food processor and whiz

(mix at low speed)

for 10 secs or so until thoroughly combined.

Scrape two-thirds of the dough into one bowl, and the remainder into another. Cover them both with plastic film, then put the larger portion in the fridge and chill it for 1-11/2 hrs until it has firmed up. Store the smaller portion in a cool spot, but not the fridge so that the dough is soft enough to be piped on the tart.

Remove the chilled dough from the fridge, then press it as evenly as you can all over the base of a 24-25 cm loose-based tart tin or springform cake tin.
(I skipped the chilling step and pressed the dough onto a tart tin with a baking paper on top.)
The dough is quite soft, so you will find if you sit your hand in the middle of the tin and turn the tin slowly you can easily even it out. Push gently around the edges of the dough to form a very slight rim up the side of the tin - no more than 5-6 mm high. After all this handling, the dough will be quite soft again so it's a good idea to chill it for 30 min or so to firm it up. While chilling, mix together the raspberry and Davidson plum jams.
(I chilled my tart only when it was completely assembled.)


When the dough base has firmed up, spoon the jam onto it and spread it out evenly, without going quite to the edge of the tin. Now, scoop the smaller portion of dough into a large piping bag fitted with a 6 mm plain tube or a large, strong snap-lock bag. Just force the dough towards one corner and twist the rest of the bag so the mixture forms a little pouch. Carefully snip the corner off the bag.

Make a lattice top by piping five or six parallel strips of dough evenly across the jam-coated base, then pipe another five or six strips of dough across these to form a lattice. If necessary, press the edges of the strips gently to the dough rim to seal. Use the remaining dough in the bag to pipe a border around the rim, over the sealed edges, then chill the linzertorte for 30 mins or so.
(I chilled my assembled tart in the fridge for 1 hr before baking.)

Preheat your oven to 160°C. Slide the torte into the oven and bake it for 1 1/4 hrs or until the lattice top is golden and the jam is slightly bubbly. When it's ready, transfer it to a rack and leave it to cool in the tin.

When the linzertorte is barely warm, carefully loosen around the edges of the tin with a fine palette knife (if necessary), then remove the sides of the tin and leave the torte on the base to cool completely. Once it is completely cool, use a large spatula to help slide it off the base onto a serving plate. Dust the edges with a little icing sugar and serve it with cream (it's rich, so you only need smallish slices). Leftovers keep well for up to 5 days at room temperature and 10 days or more in the fridge.
Note: Using half of the recipe, I have baked my tart in 19 cm loose bottom tart tin at 150
°C
fan forced for 45 min.
Linzer Cookies adapted from the book, Chewy Gooey Crispy Crunchy Melt-in-Your-Mouth Cookies by Alice Medrich
Combine the flour, nuts, granulated sugar, salt, cinnamon, and cloves in a food processor. Pulse until the nuts are finely ground.
(I skipped this processing step because I used almond meal instead of whole nuts
and all I did was to combine the flour, sugar, salt, cinnamon and almond meal together
).
Add the butter (cut into several pieces if firm). Pulse until the mixture looks damp and crumbly. Add the almond extract and the lemon and orange zests or extracts and pulse until the mixture begins to clump up around the blade. Remove the dough, press it into a ball, and knead it a few times to be sure all of the dry ingredients are blended into the dough.
Form the dough into 2 flat patties. Wrap and refrigerate the dough for at least 2 hrs and preferably overnight or up to 3 days. The dough may be frozen for up to 3 months.
Preheat the oven to 325°F
(or 160°C fan forced)
. Position racks in the upper and lower thirds of the oven.
To Roll and Cut Cookies: Remove 1 patty from the refrigerator and let it sit at room temperature until supple enough to roll but still quite firm. It will continue to soften as you work. Roll the dough to a thickness of 1/8 inch between sheets of wax paper or between heavy plastic sheets cut from a plastic bag. Turn the dough over once or twice while you are rolling it out to check for deep wrinkles; if necessary, peel off and smooth the paper or plastic over the dough before continuing to roll it. When the dough is thin enough, peel off the top sheet of paper or plastic and keep it in front of you. Invert the dough onto that sheet and peel off the second sheet. Cut as many large shapes as possible. Dip the edges of the cookie cutters in flour as necessary to prevent sticking. Cut a smaller shape from the center of half of the large shapes. Use the point of a paring knife to lift and remove scraps as you transfer the cookies to the lined or un-greased pans. Place large cookies at least 1 1/2 inches apart on the cookie sheets. Repeat with the second piece of dough. Gently press all of the dough scraps together (don't overwork them with too much kneading) and re-roll.
Bake for 13 to 15 min for larger 3 inches size cookies or 8 to 10 min for miniature 1 1/4 inches ones, or until the cookies are just beginning to color at the edges. Rotate the pans from top to bottom and from front to back halfway through the baking time to ensure even baking.
Let the cookies firm up on the pan for 1 to 2 min. Transfer the cookies to racks. Cool the cookies completely before stacking or storing. May be kept in an airtight container for a month or more.
To assemble, shortly before serving, spread each solid cookie with a thin layer of preserves. Sift powdered sugar over the cookies with cutouts. Place a sugared cutout cookie on top of each preserve-covered cookie. Leftover cookies can be stored in an airtight container, but the moisture from the preserves will soften them.
Note: Using 1/5 of this recipe, I've baked six 5cm round and eight little flower linzer cookie sandwiches and baked them all at
160°C fan forced for about 10 to 12 min.
Homemade Strawberry
Jam (made in a small quantity), mostly adapted from the book, The Cake Stall by The Australian Women's Weekly
200g strawberries, washed and hulled
140g caster sugar
30ml lemon juice
Gently heat berries in a saucepan, covered for 2-3 min to extract juice from berries. Transfer berries with slotted spoon to another bowl.
Add sugar and lemon juice to strawberry juice in pan. Stir over low heat until sugar dissolves.
Return
the berries to pan, simmer uncovered for 20 min or until jam gels when tested.
Jam test: Put a spoonful of jam onto a freezer-chilled saucer. Push the jam with finger, if it wrinkles the jam is set.
Happy Baking
Here are our baking friends that have joined us for this bake-along. Please visit their blogs for more of their Linzer tart baking.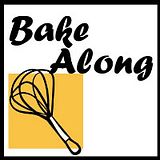 Please submit your details if you wish to link your post with this bake-along. This linking tool is open from 12 Nov to 18 Nov 2012.
For our next bake-along, we are baking
Designer Chocolate Baby Grands (Recipe: Rose's Heavenly Cakes, Pg 303 or here) which is to be posted on 27 Nov 2012. Please bake-along with us! All you need to do is to bake this recipe and blog hop with us on this day or within the next 7 days.
To blog hop with us, simply copy and paste this linky HTML code into your blog post where you want the blog hop list to appear. Make sure you are in HTML view/mode when you paste in the code. get the InLinkz code
Before using this linky tool
, please make sure that: (1) Your post must be a current post. (2) Please mention Bake-Along in your post and link back to any of our hosts' Bake-Along post, (Joyce, Lena or Zoe). (3) Appreciate if you can display the Bake-Along badge in your post when linking up with us. Cheers
!