To me, baking these designer chocolate baby grands feels like running a marathon... Having three major components,
these beautiful cupcakes with glossy chocolaty finishes
require so much time and "stamina" to bake and assemble. With all the housework, husband, child and baking, I was totally exhausted at the end of the day and had chocolate all over my hands and body...
Being a persevering baker, I wasn't
put off at all by this super-lengthy recipe and love all sorts of baking challenges. Having said that, the ironical part of me tells me that I will need extra courage and support to bake these cakes. And, so I have recruited
my two baking buddies, Joyce from
Kitchen Flavours
and Lena, from
Frozen wings
to bake-along these challenging cupcakes with me. Evil me! LOL!
In actual fact, these designer chocolate baby grands are quite technical to bake. There are three different components in this bake, the cake itself, the chocolate ganache and the shiny glaze. When every component was assembled together, the cupcakes do look very grand with nice and glossy chocolaty finishes. Here are my rating for these cupcakes:
Looks wise - Grand! 10 out of 10!
Taste wise - Very moist and chocolaty! 10 out of 10!
These cupcakes are so delicious because their sponge-like cake base absorbed warm chocolate ganache very well, giving them a very moist and chocolaty texture. Instead of making milk chocolate ganache as described in Rose's recipe, I have made a dark chocolate ganache using dark chocolate with 70% cocoa, resulting my cupcakes having lots of chocolaty flavours and just the right amount of sweetness for us. Ultimately, the finishing layer of glossy chocolate glaze gives these cupcakes a nice final touch... Being a chocoholic, I would strongly recommend eating these cupcakes for a wonderful chocolate experience. It feels like eating chocolate-infused chocolate cakes with lots of semi-solid chocolate sauce. Yum!
With the same recipe, I have given myself a double challenge by making these cupcakes even smaller. My son was very impressed with the extra-baby grands knowing that these are made specially for his little mouth to nibble... LOL!
My designer chocolate baby grands
My designer chocolate EXTRA-baby grands - My son was excited seeing these!
Making the cake batter
Filling up my foil cupcakes liners
Happy to see that my cupcakes are ready!
Getting ready for the next step
Applying the dark chocolate ganache onto the cupcakes
Making the lacquer glaze
Enjoying the cupcakes... Just one mouth and the extra-baby grand is gone!
Can you see the intermediate layer deeply infused with dark chocolate ganache? Having this extra-baby chocolate grand all in one mouth is as heavenly as you can imagine...
Here's the recipe from the book, Rose's Heavenly Cakes by Rose Levy Beranbaum.
(with my modification and notes in blue)
The Cupcakes
Makes 14 cupcakes
Batter:
33 g unsweetened (alkalized) cocoa powder
1/4 cup boiling water
1/4 cup canola or safflower oil, at room temperature
(I used canola oil)
2 large eggs, separated, plus 1 additional white, at room temperature
1/2 tsp vanilla extract
37 g cake flour
37 g bleached all-purpose flour
150 g superfine sugar
1 tsp baking powder
1/2 tsp baking soda
(replaced by baking powder)
1/8 tsp salt
Equipment:
14 foil cupcake liners, white inner liners still attached, coated with baking spray with flour, set in muffin pans
Preheat the oven 20 min or more before baking, set an oven rack in the lower third of the oven and preheat the oven to 350°F/175°C.
Mix the cocoa and liquid ingredients. In the bowl of a stand mixer, by hand, whisk the cocoa and boiling water until smooth. Cover with plastic wrap to prevent evaporation and cool to room temperature, about 30 min. To speed cooling, place the mixture in the refrigerator. Bring it to room temperature before proceeding.
Add the oil and yolks to the chocolate mixture. Attach the whisk beater. Starting on low speed, gradually raise the speed to medium and beat for about 1 minute, or until smooth and shiny, and resembling a butter-cream. Scrape down the sides of the bowl. Beat in the vanilla for a few seconds.
Mix the dry ingredients. In a medium bowl, whisk together the flours, sugar, baking powder, baking soda, and salt.
Make the batter. Add half the flour mixture to the chocolate mixture. Beat on low speed until the dry ingredients are moistened. Scrape down the sides of the bowl. Add the remain­ing flour mixture. Raise the speed to medium-high and beat for I minute. Scrape down the sides and bottom of the bowl. The mixture will be very thick.
Starting on low speed, add the egg whites. Gradually raise the speed to medium-high and beat for 2 mins. The batter will now be like a thick soup. Using a silicone spat­ula, scrape it into a 2-cup or larger cup with a spout. Pour the batter into the prepared cupcake liners. They will be just under half full, 3/4 inch from the tops.
Bake the cupcakes. Bake for 15 to 20 min, or until a wire cake tester inserted in the centers comes out clean and the cupcakes spring back when pressed lightly in the centers. While the cupcakes are baking, make the ganache syrup. When the cupcakes are baked, set the pans on a wire rack.
Milk

(or Dark)

Chocolate Ganache Syrup
Makes: about 2/3 cup
85g (3 ounces) milk chocolate, 40% to 41% cacao (or 2 ounces lower percentage milk chocolate and 1 ounce dark chocolate, 60% to 62% cacao), chopped
(I used 80g chocolate with 70% cocoa)
1/4 cup plus 2 tbsp heavy cream
1/2 tsp vanilla extract
Make the milk chocolate ganache syrup.
In a food processor, process the chocolate until very fine. In a 1-cup or larger microwavable cup with a spout (or in a small saucepan over me­dium heat, stirring often), scald the cream (heat it to the boiling point; small bubbles will appear around the periphery). With the motor of the food processor running, pour the cream through the feed tube in a steady stream. Process for a few seconds until smooth. (Alternatively, grate the chocolate, place it in a small bowl, and stir in the scalded cream until the mixture is uniform in color.)
- I chose to use the alternative method.
Transfer the chocolate syrup to a microwavable bowl and stir in the vanilla.
Apply the syrup. Remove the cupcakes still in the muffin pan to a wire rack. While they are still hot, poke about 12 deep holes in each cupcake with a wooden skewer. Brush the cupcakes with syrup. It penetrates most readily when at least 110°F/43°C almost hot to the touch
(Mine was 52°C when I applied my syrup)
. If necessary, reheat as it cools by giving it a few seconds on high power in the microwave. Allow them to sit for a few minutes, and then apply more syrup to fill the little holes left by the skewer. Continue applying the syrup until all of it has been used. There should be a thin coating covering the top of each cupcake. Allow the syrup to set until, when touched with a fingertip, it leaves no mark, about 1 hr.
Lacquer Glaze
makes: 1 1/3 cups
1/4 cup cold water
2 tsp powdered gelatin
(replaced by 1 1/2 gelatin leaves, about 6g, pre-soaked in water first
just before use
and lightly squeezed to remove excess water)
133 g sugar
(reduced to 100g)
1/3 cup water
28 g golden syrup or corn syrup
(I used golden syrup)
66g unsweetened (alkalized) cocoa powder
1/3 cup heavy cream
Make the lacquer glaze.
Have ready a fine-mesh strainer suspended over a medium metal bowl. In a small bowl, place the 1/4 cup of cold water and sprinkle the gelatin over the top. Stir to moisten and soften the gelatin and allow it to sit for a minimum of 5 min. Cover tightly with plastic wrap to prevent evaporation and set aside.
(I skipped this step because I have used gelatin leaves)
In a small heavy saucepan over medium heat, whisk together the sugar and 1/3 cup of water. Stir constantly with the whisk until the sugar dissolves.
Remove the pan from the heat and, with the whisk, gently stir in the golden syrup and then the cocoa until smooth, making sure to reach into the corners of the pan. The mixture will be glossy. Using a silicone spatula, stir in the heavy cream.
Return the pan to medium heat and, stirring constantly, bring the mixture to the boil­ing point (190°F/88°C). Bubbles will just start to form around the edges.
Remove the pan from the heat and strain the mixture into the medium bowl. Cool slightly, for about 10 minutes. An instant-read thermometer should register 122 to 140°F or 50 to 60°C. With the silicone spatula, stir in the softened gelatin until dissolved completely and no longer streaky.
Strain the glaze into a 2-cup heatproof glass measure or bowl. (Metal will impart an undesirable flavor if the glaze is stored in it.) Cool for a few minutes, stirring very gently so as not to incorporate any air
(I didn't strain the glaze again)
. For these cupcakes, the glaze coats best when just made (80°F/26°C). If the glaze is made ahead and reheated. it will be thicker and should be used at 82 to 85°F or 28 to 29°C.
Lift the cupcakes from the pans and carefully remove them from the foil liners, leaving the white inner liners still attached to the cupcakes. Set the foil liners aside.
Glaze the cupcakes. Place the cupcakes on a wire rack set on a 17 1/4 by 12 1/4 by 1-inch half-sheet pan or a large piece of aluminum foil to catch the excess glaze.
Use a regular tablespoon (not a measuring spoon) to coat the tops of the cupcakes with the lacquer glaze. Smooth it into place with the rounded back of the spoon in a circular motion. Some of the glaze will cascade over the sides and can be reheated and re-poured. Use the aluminum foil as a funnel to pour the excess glaze back into the glass measure. Should they appear, any tiny bubbles can be pierced with a sharp needle. Allow the glaze to set for about 1 hr, or until just barely tacky when touched lightly with a fingertip. Set the cupcakes back in the foil liners. They are at their most shiny within 6 hrs of pouring the glaze. To revive the shine, brush lightly with a soft brush or wave a hair dryer set on low heat briefly over the cupcakes. If desired, encircle them with cupcake wrappers.
Note: Using this recipe, I have baked 7 standard size cupcakes and 11 smaller ones and baked them at 160°C fan forced for 20 min (standard size ones) and 15 min (smaller ones).
Happy Baking
Here are our baking friends that have joined us for this bake-along.
Please visit their blogs for more of their designer chocolate baby grands baking.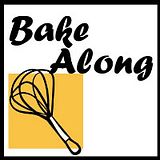 Please submit your details if you wish to link your post with this bake-along. This linking tool is open from 27 Nov to 3 Dec 2012.
For our next bake-along, we are baking chocolate éclair which is to be posted on 11 Dec 2012. Please bake-along with us! All you need to do is to bake your favourite
chocolate éclair
and blog hop with us on this day or within the next 7 days.
To blog hop with us, simply copy and paste this linky HTML code into your blog post where you want the blog hop list to appear. Make sure you are in HTML view/mode when you paste in the code.
get the InLinkz code
Before using this linky tool
, please make sure that: (1) Your post must be a current post. (2) Please mention Bake-Along in your post and link back to any of our hosts' Bake-Along post, (Joyce, Lena or Zoe). (3) Appreciate if you can display the Bake-Along badge in your post when linking up with us. Cheers!