I love eating tomato chutney but have never make them before. There are so many tomato chutney recipes to choose and since it is Delia Smith for Cook Like a Star this month, I have decided to use Delia's recipe to make my first homemade tomato chutney.
This tomato chutney recipe contains two different of tomatoes which are fresh and dried ones. It uses
Spanish paprika (pimentón) too for its smoky flavour. For my son, I didn't want to make my chutney too spicy and uses Hungarian sweet paprika only.
While cooking the chutney, it released a nice sweet-smelling tomato aroma that fill up the house. My husband and son were curious when they smelled the cooking chutney and kept asking me what was I cooking... Hearing their comments, I thought that they will like this chutney or maybe not...
Dad: Is this papaya jam?
Boy: I don't like this... Can I eat our baby tomatoes instead?
Mum: ???
I guess all my thoughts and efforts for making this chutney has gone to waste... Despite that the chutney is really ok to eat, we still prefer eating our homegrown tomatoes as it is and I simply don't know why??? I think that it is simply us that is the problem! Please don't blame the chutney... LOL! Thumbs down for this chutney but thumbs up for our homegrown tomatoes!
My smoky tomato chutney
The tomatoes that I used
Spices for the chutney
Cooking the chutney
Getting the right texture
Ta-dah! Presenting my homemade tomato chutney... Strangely, my family didn't like it.
Our tomato plants
Thumbs up only for our homegrown tomatoes... not really for the tomato chutney
Here's the recipe from
Delia Smith
(with my notes and modification in blue)



Makes four 1 lb (350 ml capacity) jars

4 oz (110 g) sun-blush tomatoes
(I used the no fat added ones)


2 lb 8 oz (1.15 kg) red, ripe tomatoes
1 tbsp hot pimentón
(I didn't add this)


1 tbsp sweet, mild pimentón
(I used Hungarian sweet paprika)
1 dessertspoon coriander seeds
1 dessertspoon mustard seeds
2 fat cloves garlic, peeled
2 large onions, peeled and quartered
4 oz (110 g) light muscovado sugar
½ pint (275 ml) good-quality red wine vinegar
1 heaped tsp salt

First of all, drain the sun-blush tomatoes of excess oil and pat dry with kitchen paper. (If using mi-cuit tomatoes, there will be no need to drain them

and I didn't need to do that

.) Then heat a small, heavy-based frying pan and dry-roast the coriander and mustard seeds over a medium heat, turning them over and stirring them round for 2 mins to draw out their flavour. Then crush them together with a pestle and mortar - not very much; they just need to be broken up.
Now, making the chutney is going to be a lot easier if you have a food processor.
In the past, an old-fashioned mincer was used for chutneys, and a processor is even faster, but if you have neither, then you just need to chop everything uniformly small. Add the sun-blush (or mi-cuit) tomatoes to the food processor and chop till roughly ¼ inch (5 mm) in size. Then add the fresh tomatoes and process briefly until they are the same size. Now pour the whole lot into the pan.
Next, add the garlic and onions to the processor and process these to about the same size.
Note: I didn't use a processor to process the tomatoes, onion and garlic and preferred to cut them by hand to get a slightly chunky chutney.
Then transfer them to join the tomatoes and add the crushed spices, pimentón

(or paprika)

, sugar, vinegar and salt. Bring everything up to simmering point, stirring all the time, then, when you have a gentle simmer, reduce the heat to low and let it cook very gently, uncovered, for 3-3½ hours. It doesn't need a great deal of attention - just come back now and then to give it a stir to prevent it sticking. The chutney is ready when all the liquid has been absorbed and the mixture has thickened to a nice soft consistency. The way to test for the right moment is by using a wooden spoon to make a trail all the way across the top of the chutney - if the trail fills with vinegary juices, it's not ready; when the spoon leaves a trail that does not fill with juice, it is. You need to watch the chutney carefully at the end because under-cooking will make it too sloppy and overcooking will make it dry.
Note: I cooked mine for 2 hr and allow it to cool for at least 20 min before processing it to the right consistency.

When it is ready, allow it to cool a little and pour it through the funnel into the hot, sterilised jars, filling them as full as possible. Cover each one straightaway with a waxed disc and seal with a vinegar-proof lid while it's still hot, but don't put a label on until it's cold. Store the chutney in a cool, dry, dark place for 8 weeks to mellow before using.
To sterilise jars, wash the jars and lids in warm, soapy water, rinse well (again in warm water), then dry them thoroughly with a clean tea cloth, place them on a baking tray and pop them in a medium oven, gas mark 4, 350°F (180°C) for a minimum of 5 minutes. Add their contents while they are still hot.
Note: Using 1/4 of recipe, I have cooked about 350 ml of chutney. I didn't sterilise my jar and fill it with the warm chutney when the chutney is slightly cooled. The chutney is stored in the fridge up to 2 weeks for our consumption.
This post is linked to the event, Little Thumbs up organised by Doreen from my little favourite DIY and me, Bake for Happy Kids, hosted by
Doreen from
my little favourite DIY
,
at this post.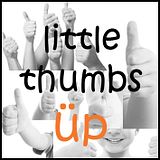 Due to many requests, we have decided to extend our Little Thumbs Up event from the first Tuesday until the last day of the month. Please join us! To join, simply cook or bake any recipe with the theme of the month which is TOMATO for March 2013 and link with us at this post anytime until 31st Mar 2013. Don't forget your thumbs up or display this badge! For more details, please see this.
This post is also linked to the blog hop event, Cook like a Star, organised by me, Bake for Happy Kids, Baby Sumo from Eat your heart out and Mich from Piece of Cake. Wanna cook or bake like Delia Smith? To join, simply cook or bake any recipe from Delia Smith's website or her cookbooks and blog hop with us for the whole month of March 2013. For more details, please see this.
For March 2013, I'm giving away a gift to a Cook like a Star participant who cooks or bakes the most popular recipe within the Delia Smith, Cook Like a Star blog hop event. To win, you have to be trend setter of Cook like a Star, March 2013
.
For further explanation on how to be the trend-setter, please refer to this post.
Here are my blogging friends that have joined me cooking for this event. Please visit their blogs for more of their 5-stars cooking.
To blog hop with us, simply copy and paste this linky HTML code into your blog post where you want the blog hop list to appear. Make sure you are in HTML view/mode when you paste in the code. get the InLinkz code
Before using this linky tool, please make sure that: (1) Your post must be a current post. (2) Please mention Cook like a Star in your post and link back to our Cook like a Star post, Zoe from Bake for Happy Kids, Baby Sumo from Eat your heart out and
Mich from Piece of Cake
. Cheers!