Have you ever wonder if the use of heavenly creamy cream cheese can bake better cookies?
YES that I notice that cookies and pastry made with cream cheese has a nice milky taste but...
NO that the cookies or pastries made with cream cheese are not as crispy or short as the ones made with just butter or shortening.
I notice the obviously difference between these pineapple tarts baked with cream cheese (recipe from Wendy, Table for 2) and these pineapple tarts baked without cream cheese (recipe from The Little Teochew). The cream cheese ones are delicious with a hint of milky taste but I actually prefer the ones without cream cheese for its short and buttery texture.
Am I giving up the idea of using cream cheese for tarts or cookies baking? Not entirely!!!
If you try Googling for best cream cheese cookies, you will see this from The Heartland and this from Just a Taste. I like to trust Google and try both recipes...
According to Dawn, the author of The Heartland, mentioned that her cream cheese cookies recipe has been pinned in many Pinterest boards and she named this recipe the "Best-Ever Cream Cheese Cookies". With further Googling, I found that another cream cheese cookies recipe is very similar to Dawn's one too and uses egg yolk rather than using the whole eggs. For extra creaminess, I'm giving Dawn's recipe a go using with egg yolk.
Both Google and Dawn is right! These cookies is really simple, versatile and yet so delicious!
According to Dawn, these cookies are be made as dropped cookies, roll them into balls or even roll the dough for cut-out cookies. Like what Dawn did, I baked mine using the simple drop method with no extra sugar.
Interestingly, these cookies can taste differently baked with different baking time. These cookies taste like little cream cheese pound cake when the cookies are slightly under-baked for 12-15 minutes and warm. And, I LOVE LOVE LOVE them the most at this stage!!! They will eventually firm up and taste like cookies when they are baked for another 5 minutes and cooled completely. As expected, these cookies are not the short or crispy kind at all but sort of cake-y type with nice milky taste and fragrance.
Next, I will be trying this cream cheese chocolate chip cookies recipe from Just a Taste. So stay tune to explore the wonder of cream cheese in my cookies baking... - LOL!
Simple milky cream cheese cookies
Can the heavenly creamy cream cheese bake better cookies?
The cookie batter looks so creamy...
The batter doesn't look so creamy now :p
Easier to scoop and drop equal amount of dough with an ice cream scoop :)
If under-baked, the warm cookies tasted like little pound cake! Yum!
It is quite difficult for me to illustrate or describe the milky fragrance of these cookies...
... you have to smell and taste it to understand it!
Here's the Best-Ever Cream Cheese Cookies recipe from The Heartland
(with my modification in blue)
Makes about 2 dozen dropped or rolled cookies
1/2 cup

(or 125g)

unsalted butter at room temperature
3oz

(or 90g)

regular cream cheese at room temperature
1 1/2 cups icing sugar
1/2 tsp baking powder
1 egg at room temperature
(used 1 egg yolk with half amount of the recipe)
1/2 tsp pure vanilla extract
(I replaced this vanilla paste)
1 3/4 cups all purpose flour
Heat your oven to 375°F

(or 160°C fan forced)

and line your cookie sheets with parchment paper.
Place butter and cream cheese in your mixer bowl and beat for 1 min. Beat in the sugar and baking powder

(I added the baking powder later with the flour)

.
Add egg and vanilla and beat until fluffy. Beat in the flour

(+ baking powder)

. Chill for 30 mins for drop/roll cookies, 1 hr for cut-out cookies.
Scoop by rounded teaspoon full and dredge drop cookies (roll balled cookies) in superfine sugar

(I dropped my cookies dough directly onto my baking sheets without coating them with extra sugar)

. Bake for 7 mins (*See note). Cool for 1 min on cookie sheet then transfer to wire racks to cool completely.
*Note: The baking time may vary depending on the size and the shapes of your cookies. Mine scooped using a small ice cream scoop took 12-15 mins to become cream-cheese-pound-cake-like and took a total of 20 mins to become firm cookies.
Please do not over-bake as over-baking will dry out the cookies.
Using half amount of the recipe with 1 egg yolk, I have baked 17 of these cookies at
160°C fan forced for 12-20 mins.
Happy Baking
These cream cheese cookies are NOT the traditional kind that most Asians would bake for Chinese New Year celebration but I would say that they are very delicious to eat for all occasions!!! For this reason, I'm linking this post with our Chinese New Year cookies bake-along... Hope that my fellow Asian food bloggers won't mind.
Here are our baking friends that have joined us for this bake-along. Please visit their blogs for more of their Chinese New Year Cookies baking.
Please submit your details if you wish to link your post with this bake-along. This linking tool is open from 6 Jan to 27 Jan 2014.

We are taking a break for the whole month of Feb 2014 and will be baking-along again from Mar 2014. For our next bake-along, we are baking Cream Cheese Brownies (Recipe from book, How To Be A Domestic Goddess by Nigella Laswon, Pg 194) which is to be posted on 6 Mar 2014. Please bake-along with us! All you need to do is to bake this recipe and blog hop with us for the next 10 days.

To blog hop with us, simply copy and paste this linky HTML code into your blog post where you want the blog hop list to appear. Make sure you are in HTML view/mode when you paste in the code. get the InLinkz code
Before using this linky tool, please make sure that: (1) Your post must be a current post. (2) Please mention Bake-Along in your post and link back to any of our hosts' Bake-Along post, (Joyce, Lena or Zoe). (3) Appreciate if you can display the Bake-Along badge in your post when linking up with us. Cheers!
This post is also linked to the event, Little Thumbs up organised by Doreen from my little favourite DIY and me, Bake for Happy Kids, hosted by Alice from I Love. I Cook. I Bake. at this post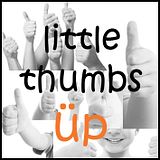 The Little Thumbs Up event starts on first Tuesday of the month until the last day of the month. Please join us! To join, simply cook or bake any recipe with the theme of the month which is CHEESE (including cream cheese) for Jan 2014 and link with us at
this post anytime until 31st Jan 2014.
Don't forget your thumbs up or display this badge! And make sure that: (1) Your post must be a current post preferably within this month. (2) Please mention Little Thumbs Up in your post and link back to Bake for Happy Kids, my little favourite DIY or/and
Alice from I Love. I Cook. I Bake.
For more details, please see this.
What after Jan 2014? Grace from Life can be simple will be the next hostess of Feb 2014 and her theme is LEMONS!