Chocolate cookies with sugary crackling tops! Seeing these, you must be thinking... didn't I (Zoe) just baked and blogged about these for our recent bake-along.
Deja vu? NO!!! I promise you that these are different chocolate cookies...
Chocolate gooey butter cookies (A recipe by Paula Deen)
Yeah... My son thought the same too, thinking that these cookies are the crisp chocolate bites that I had baked previously.
After having a bite, my boy gave me a confused look...

Is this a cookie?
Or a cake?
It's not a cookie because it tastes like a cake!
It's not a cake because it looks like a cookie!
hmmm...
It's chocolaty!
Buttery...

Mum: Sweetie, these are chocolate gooey butter cookies!!!
Boy: I like how you surprise me with your baking...
My son is right! These chocolate crackle look-alike cookies doesn't taste the same like traditional cookies or
crisp chocolate bites that I had baked previously
. The addition of cream cheese in higher proportion than butter makes these cookies soft, milky, tender and gooey like the cakey type of brownies. It is so cakey that I think they taste like little chocolate pound cakes too. Being moister than most cookies, the sugary coating blend well into the cookies when they are consumed creating a melting taste rather than a sugary crunch or crisp.
These cookies are rich in flavours but not heavy in their texture. Great to enjoy whenever you like as th
ey will stay soft and gooey in regardless.
-----
Tomorrow is 1st July 2014!!! How scary is that? Half of 2014 just went like this...
I'm sure that June has been a busy month for most of you. For some, it is a busy baking month as we have more than 344* posts linking with
Little Thumbs Up (Butter) event
. I must say that Jozelyn is a dynamic hostess!!! She is so energetic and active for the whole month of June!!! Whenever I visit any of the linking posts, I can see that she had visited them. At times, I see that she has been inviting butter-baking participants to link with her too... Thanks, Jozelyn! Doreen and I are so happy to have you hosting Little Thumbs Up.
Besides Jozelyn, I have also discovered another wonderful event hostess and she is Diana from Domestic Goddess Wannabe. Both Joyce and I agreed that we have a great time cooking with Diana for Cook Like a Star (Paula Deen) this month. Although we have a decreasing number of 38 posts linking with us for this event, it is fruitful event as we all have a taste of comforting Southern American cuisine from Paula Deen's recipes. However, the decreasing number of participation in Cook like a Star has prompted me to do something sad... Sad because I have decided to end Cook like a Star events by the end of 2014! ... meaning Cook like a Star -Bobby Flay (Nov 2014) will be the last event for all. Thank you all for your participation.
Having said that, please don't stop cooking like a star yet!!! We are still cooking and baking with Gordon Ramsay's recipes for Aug 2014 and Bobby Flay's recipes for Nov 2014...

What after Nov 2014??? Not to worry... There will be plentiful of events to link!!! Little Thumbs Up will be continuing. Yen from Eat Your Heart Out, Diana from Domestic Goddess Wannabe and I are starting a new event for Christmas and Chinese New Year. We will blog about the details of these events nearer to Christmas.

* will update the final number after 1 July 2014
These cookies are made with cream cheese and butter.
... and homemade chocolate cake mix!
To start, cream butter, cream cheese and egg.
Then, mix in the homemade cake mix.
Coat each tablespoon of batter with icing sugar.
... and bake!
Always gooey! My son and I were happy enjoying these...
Here's the recipe mostly adapted from Food Network
(half of the original recipe and also converted into grams)
Makes 20-22 cookies
125g cream cheese, at room temperature
60g butter, at room temperature
half an egg
1/2 tsp vanilla extract
270g moist chocolate cake mix (see below)
icing sugar, (30-40g or 1/3 cup should be sufficient for coating and also extra to serve)
In a large bowl with an electric mixer, cream the cream cheese and butter until smooth. Beat in the egg. Then beat in the vanilla extract. Beat in the cake mix. Cover and refrigerate for 2 hrs to firm up so that you can roll the batter into balls.
Preheat oven to 350°F or 160°C fan forced.

Using a cookie scoop or hand, scoop or roll the chilled batter into tablespoon sized balls and then roll them in confectioner's sugar. Place on a baking tray lined with baking paper, 2 inches apart. Bake for 12 mins. The cookies will remain soft and "gooey." Cool completely and dust with more icing sugar, if desired.
Note: I reckon the sweetness of these cookies are just right for us and so I didn't dust extra icing sugar after baking.
My Homemade Chocolate Cake Mix inspired and adapted from Jamie Deen's One Bowl Chocolate Recipe.
Make 270g
100g cake flour (with 7-8g protein content)
125g icing sugar
30g unsweetened cocoa powder (I used
Valrhona
Dutch processed ones)
15g milk powder
1 tsp baking powder
1/4 tsp salt
Weigh out the above ingredients. Combine all in a clean container. Store at room temperature until ready to use.
Happy Baking
Please support me and like me at Facebook...
This post is lin
ked to Cook like a Star (
Paula Deen and Deen brothers theme)
organised by me, Bake for Happy Kids,
Joyce from Kitchen Flavours and Diana from
Domestic Goddess Wannabe
This post is also linked to the event,
Little Thumbs up
organised by Doreen from
my little favourite DIY
and me,
Bake for Happy Kids
, hosted by Jozelyn from
Spice Up My Kitchen
at
this post
.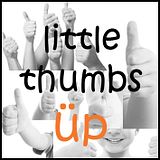 Only for this month (June 2014), Little Thumbs Up event starts on 1st June until the last day of the month. Please join us! To join, simply cook or bake any recipe with the theme of the month which is BUTTER for June 2014 and link with us at
this post
anytime until 30th June 2014.
Don't forget your thumbs up or display this badge! And make sure that: (1) Your post must be a current post preferably within this month. (2) Please mention Little Thumbs Up in your post and link back to Bake for Happy Kids, my little favourite DIY or/and
Jozelyn
from
Spice Up My Kitchen
.
For more details, please see this.
What after June 2014? Jasline from Foodie Baker will be the next hostess of July 2014 and her theme is POTATO! Her Little Thumbs Up event starts on first Tuesday of July 2014 until the last day of the month.