When Lena from Frozen wings suggested baked pasta as the theme for our bake-along with Joyce from Kitchen Flavours and me, I know that this theme will create endless possibilities...
However, all in my mind is I want to bake the most simple
mac and cheese and I was wondering why???
According to Wikipedia, macaroni and cheese are known as mac and cheese, cheese macaroni, macaroni pie and macaroni cheese. It is a dish consisting of cooked macaroni pasta and cheese incorporating bread crumbs and mostly made with a white sauce. These days, there are wide selections of instant mac and cheese available on supermarket shelves. They are microwaveable, convenient and cheap! ... And this is why we had been eating these a lot when we were poor students!
I'm so glad that we are not students anymore!!! Having said that, we are neither gastronomists nor connoisseurs for fine food as eating out everyday is totally impossible for us. For me, I like to describe myself as a desperate working housewife who aspire to serve one man and one kid with good quality home-cooked food. To me, good quality food means food that are made of fresh, nutritional and real ingredients and definitely not the kind of instant mac and cheese that we used to eat.
For this bake-along, I like revolutionize our perception of mac and cheese and hope to make this pasta dish as gastronomic as possible... Although I have narrowed my choice to bake a simple mac and cheese, the choice of recipes is pretty endless. Me being indecisive? Yeah... I was tossed and lured between Nigella Lawson's, Martha Stewart's, Bobby Flay's, Paula Deen's, Jamie Oliver's and more... Possibly!
Some of these choices says that it is the cheesiest, most perfect, easiest and even a killer recipe! And, I was seriously in the tough eeny, meeny, miny, moe situation!
Finally, I have my mind set to bake this highly rated
Alton Brown's recipe... All for the fact that everything he wrote in his recipe is so straightforward and scientifically logical! Brilliant!
Me not eating instant mac and cheese? Definitely!
Me a gastronomic desperate
housewife? Trying!
Me cooking with scientific knowledge? LOL! Possibly!
Our simple but not instant baked macaroni and cheese
I sounded silly saying this... Here's the pack of macaroni that I use to bake my mac n cheese!
Cooking a roux with mustard
Stir in these ingredients and cook the sauce for about 10 mins
We are definitely not poor students as I'm using gruyère cheese to cook this dish... LOL!
Stir in the cooked pasta, salt and pepper.
Meanwhile, prepare this butter-panko mixture...
Assemble and bake this in a baking dish or ramekins.
All made with real ingredients! Delicious!
Here's the recipe from Food Network.
(with my modification in blue)
1/2 pound elbow macaroni
3 tbsp butter
3 tbsp flour
1 tbsp powdered mustard
(I used Dijon mustard instead)
The mustard that I used
3 cups milk
1/2 cup yellow onion, finely diced
1 bay leaf
1/2 tsp paprika
(for my chilli hating son, I had to use the sweet Hungarian kind)
1 large egg
(I have used 1 whole egg to cook half of the recipe)
12 ounces sharp cheddar, shredded
(I'm using 200g gruyère cheese to cook half of the recipe)
1 tsp salt
fresh black pepper
Topping:
3 tbsp butter
1 cup panko bread crumbs
Preheat oven to 350°F

or 160°C fan forced.
In a large pot of boiling, salted water cook the pasta to al dente.
While the pasta is cooking, in a separate pot, melt the butter. Whisk in the flour and mustard and keep it moving for about five minutes. Make sure it's free of lumps. Stir in the milk, onion, bay leaf, and paprika. Simmer for ten mins and remove the bay leaf.
Temper in the egg. Stir in 3/4 of the cheese. Season with salt and pepper. Fold the macaroni into the mix and pour into a 2-quart casserole dish

or ramekins

. Top with remaining cheese.
Melt the butter in a saute pan and toss the bread crumbs to coat. Top the macaroni with the bread crumbs. Bake for 30 mins. Remove from oven and rest for 5 mins before serving.
Note: Using half of the recipe, I have baked 6 portions of mac and cheese in 6 large ramekins at
160°C fan forced for 15 mins and at
160°C fan forced with top grill for another 5 mins.
Happy Baking
Please support me and like me at Facebook...
Here are our friends that have joined us for this bake-along. Please visit their blogs for more of their baked pasta baking.
Please submit your details if you wish to link your post with this bake-along. This linking tool is open from 7 to 16 Aug 2014.
For our next bake-along, we are baking Plum Tartlets (
Recipe from the book, Back In The Day Bakery Cookbook, pg 133 or
here
which is to be posted on 21 Aug 2014. Please bake-along with us! All you need to do is to bake this recipe and blog hop with us for the next 10 days.
To blog hop with us, simply copy and paste this linky HTML code into your blog post where you want the blog hop list to appear. Make sure you are in HTML view/mode when you paste in the code.
get the InLinkz code
Before using this linky tool, please make sure that: (1) Your post must be a current post. (2) Please mention Bake-Along in your post and link back to any of our hosts' Bake-Along post, (Joyce, Lena or Zoe). (3) Appreciate if you can display the Bake-Along badge in your post when linking up with us. Cheers!
This post is also linked to the event, Little Thumbs up organised by Doreen from my little favourite DIY and me, Bake for Happy Kids, hosted by Diana from
Domestic Goddess Wannabe
at this post.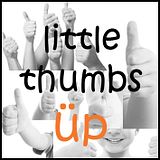 Our Little Thumbs Up event starts on the first Tuesday until the last day of the month. Please join us! To join, simply cook or bake any recipe with the theme of the month which is FLOUR for August 2014 and link with us at this post anytime until 31st August 2014.
What after August 2014? Kit from I-Lost in Austen will be the next hostess of September 2014 and her theme is APPLE! Her Little Thumbs Up event starts on the first Tuesday of August 2014 (2nd Sep) until the last day of the month.
Don't forget your thumbs up or display this badge! And make sure that: (1) Your post must be a current post preferably within this month. (2) Please mention Little Thumbs Up in your post and link back to Bake for Happy Kids, my little favourite DIY or/and Diana from Domestic Goddess Wannabe. For more details, please see this.